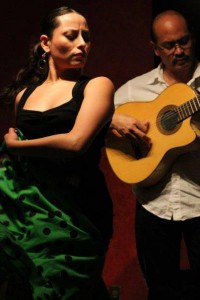 Do you want a flamenco show for your upcoming special event? I can arrange anything from:
solo flamenco guitar performance
Gipsy Kings-style rumba with two guitarists
flamenco duo with one guitarist and one dancer
flamenco trio with one guitarist and two dancers
flamenco trio with one guitarist, one singer and one dancer
dance company plus musicians
lecture/demonstrations
These are just a few suggestions More options and combinations are available depending on what you have in mind.
I'm a full-time flamenco guitarist with more than 20 years of experience performing in the Washington DC area so I know just about all the local professional dancers, guitarists and singers so I can put together whatever kind of show you desire. Plus I have a professional quality sound system and stage lights.
Just fill out this form and I'll get back to you with a quote. (Or if you're looking for a specific artist, chances are they're listed on my teacher directory.)
Be sure to include:
1. Date and time of event
2. City and state of event
3. Type of show (solo guitar, flamenco dance show etc)
4. Duration of performance