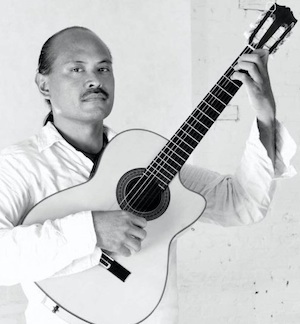 Phone: 571-830-9152
Email: dcflamenco@gmail.com
PayPal: Payments/Donations
To get a free quote or book me for a flamenco show, use this form:
Who am I and why do I blog about the flamenco scene:
My real name is Michael Pérez, but everyone calls me Miguelito. Besides being the webmaster of DCFlamenco.com, I'm a full-time flamenco guitarist based in Washington DC, USA.
Since there are only a few us flamenco guitarists here in DC, I get to work with many dancers and musicians. I get around, so to speak, and as a result I get to know what most, if not all, of the local artists are up to.
Flamenco artists are notorious for being bad self-promoters. It's hard enough as it is being a starving musician, so I might as well take advantage of the wonderful technology of the Internet to get the word out about shows (mine and everyone else's) that are coming up.
Since the launch of my website in 1996 my goal always has been to make it easy for the newcomer to quickly get to know the local flamenco scene. And after all these years, I'm proud to say that DCFlamenco.com still serves as the central hub of info for the whole DC flamenco community.
As for my blog, it's an account of my day-to-day flamenco life. It's meant to be educational and inspirational for my readers and therapeutic for myself—a way of reflecting on each day and recounting the good and not-so-good parts and how I can learn from them and grow. And to give you my readers an insight into what it's like playing flamenco guitar full-time.
Miguelito's bio:
Coming from a family musicians and visual artists, Michael Pérez aka Miguelito went on to major in classical guitar performance at California State University, Fullerton. A year before graduating, he stumbled upon a flamenco party and fell instantly in love with the art form.
Literally the day after receiving his Bachelor of Music Degree, Miguelito got on a plane and headed to Washington DC where he had a flamenco dance class accompanist job waiting for him at George Washington University.
As he played for dance classes for various teachers, recitals and concerts, word got around and before he knew it, Miguelito was playing for just about every flamenco dance company in the DC area including Danza del Río, Spanish Dance Society, Ana Martínez Flamenco Dance Company, Natalia Monteleón's Arte Flamenco, Ziva's Spanish Dance Ensemble and Furia Flamenca.
Since his arrival in the DC flamenco scene in 1991, Miguelito continues to perform with local flamenco dancers and singers every week at local clubs and restaurants and occasional theatre and festival performances. He most frequently works with flamenco dancers Ginette, Pam de Ocampo, Kyoko, Sarah Castellanos and Sara Jerez.
Services offered:
If you want to book me for a flamenco show for your own special event, I can put together a group from a wide selection of local professional-quality flamenco dancers and singers. I am also available for private guitar lessons, Hispanic Heritage Month ceremonies as well as educational presentations on flamenco in schools and in local Spanish restaurants.
Upcoming shows, music and video samples: