By guest writer Ken McNaughton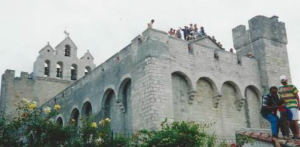 I have long been interested in Gypsies, or Roma as they prefer to be called, and developed a passion for the music of the Gipsy Kings while living in New York City. I bought their CDs and saw them perform live at Radio City Music Hall with my Puerto Rican girlfriend at the time, Miriam Gonzales. In 1996, on a business trip to Belo Horizonte, Brazil, I picked up a CD that made reference to Saintes-Maries de la Mer and Camargue ("Estrellas," 1995). When I got home I googled "Gypsies," turned up a reference to Saint Sara's crypt and the name of the town where I knew there was an annual pilgrimage on the Mediterranean coast. I had heard about this through Toni Gatlif's 1994 movie "Latcho Drom," which details the migration of the Roma from northern India a thousand years ago by tracing their music westward through Europe into Andalusia. Some scenes were filmed at the festival in Saintes-Maries. The town had a website with a list of accommodations. At the start of 1997 I made contact with Harold S. Lush, who ran a website called the Association of Gypsies/Romani International, Inc. (AGRI). During our correspondence he encouraged my interest in attending the pilgrimage.
SAINTES-MARIES
I spent a week at the festival and mounted an exhibition when I got back at my place of work, the American Institute of Physics (AIP). My promotional flyer read in part: Once a year, Gypsies from all over the world gather in a small French village called Les-Saintes-Maries-de-la-Mer to venerate their patrone Sainte Sara. It is an occasion for ritual, celebration, camaraderie, music and dancing. The area around the delta of The Rhone River is called La Camargue and is famous for its wild white horses, black bulls, pink flamingos and French cowboys, called Guardians. This year I took a week's vacation, flew to Barcelona and drove via the Costa Brava, where the Pyrenees meet the Mediterranean, to join in the festivities. The exhibition will include photographs, books and maps. Music will include the soundtrack of the 1994 film "Latcho Drom."
After I arrived at my accommodation in Saintes-Maries and dropped my bags I walked downtown for lunch and entered the first interesting café I saw. There were about three other patrons and a Gypsy band of three or four, with La Negrita singing. I sat practically motionless for about two hours, soaking up her passion. When she concluded I followed her to the back of the café, hoping to thank her for allowing me to be a part of this. I touched her on the shoulder and she recoiled in horror. First lesson—never touch a Gypsy woman!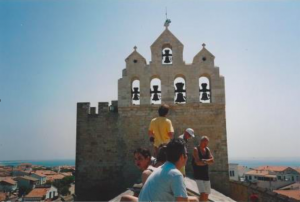 It was very difficult to find anything about her on the web at that time, but in 2016 I found several videos. You can go to a concert with La Negrita by clicking on three videos that may have been shot in the same café where I saw her. "Djelem, Djelem" [1], widely adopted as the Romani anthem, was composed by Žarko Jovanović (1925-1985), a Serbian Romani musician who set words to a traditional melody in 1949. In this video the palmas, or hand claps, are by café patrons, but the passion of Negrita is real, her lead guitarist, Boï, is real, and their deep earthy faces are 100% Romani. Rumba [2] is my favorite dance rhythm. The palmas are better here and Negrita's daughter Djinaï (the brunette) gets up to dance with Loreleïn, the blonde. After watching these videos you may start to feel the love and warmth of this remarkable culture.
"Sainte Sara" [3] is about the Romani patron saint. At the start of this video Manitas de Plata (1921-2014), in a grey jacket with grey-blonde hair, comes up front to congratulate Negrita. He was the father of Jacques, Maurice and Tonino Baliardo and uncle to Paul, François (Canut), Patchaï, Nicolas and André Reyes, the sons of his cousin, flamenco artist José Reyes (1928-1979), all members of the Gipsy Kings. The Gipsy Kings were born of two perfect parents—José Reyes, a great performer of cante jondo (deep song) and Manitas de Plata ("little fingers of silver"), a giant of flamenco guitar. The video of Manitas in his prime [4] shows a magnificent sensual face as well as virtuoso guitar playing.
I did not feel that the accommodation I had arranged from the USA would give me the real feeling of the village, so I walked to the center of town and inquired at La Roulotte (The Caravan), a pensione with four rooms next to the cathedral, which was started in the ninth century and fortified against the Vikings and Saracens (Figs. 1 & 2). Despite the fact that accommodation in the village had been booked up for weeks, a room was vacant on the ground floor with a window to the courtyard where drinks were served in the evening while a large group of Slovenian Gypsies played violins as I fell asleep (Fig. 3). I stayed out all day and evening, listening to musicians and absorbing the atmosphere (Fig. 4). One day I was watching a group of young men sitting on a low stone wall playing guitars and singing, when they quietly parted and created a space in the middle for a handsome man to join them (Fig. 5). It was Jalloul "Chico" Bouchikhi, co-founder of the Gipsy Kings and co-author of their biggest hit "Bamboleo" [5]. This is a very early video and I believe it includes Chico, who married the daughter of José Reyes, but left the group early. They sing in a Rom dialect and do palmas contratiempo, which sounds twice as fast.
After a special church service at the festival, the priest farewelled the attendees (Fig. 6). People chatted in groups and lined the streets as the guardians on horseback prepared the route to the sea (Fig. 7). The reliquary of Sainte Sara was held aloft and carried by a wave of Romanies through the streets (Fig. 8).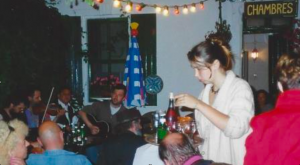 One evening I was wandering through the twilight by the church and noticed a small group of musicians that looked promising, so I lingered. A crowd slowly formed. A woman in a green dress sang beautifully (Fig. 9). Her three young daughters, dressed in white, danced in the middle and the grandmother smiled in the background (Figs. 10-11). I clapped in time and wanted to join in but was carrying a camera and a jacket. I dropped them on the ground and moved into the center of the circle. I was a single gadjo (non-Gypsy) from across the Atlantic in a remote spot in the dark, surrounded mostly by Gypsies I did not know. The daughters retreated and the mother selected a more mature partner for me. Later the mother asked me to dance again. At the end I returned to the periphery and picked up my camera and jacket, well satisfied. I strolled back to La Roulotte a short distance behind them, and discovered that all five occupied the room above me! Next day my host, a Belgian named Yngve, explained they were from a camp in Nice. When they arrived in Saintes-Maries they asked the priest if he could find them a room. The priest asked Yngve, who volunteered the room above mine.
Where I live in historic Ellicott City there is a fortune-telling shop on Main Street run by swarthy, dark-haired María and her daughters. María's husband and his sons supposedly run a used-car business in Baltimore. When I returned from Saintes-Maries, I showed my photographs to María. She gazed at the faces and then exclaimed in surprise, "These are my people!"
PATRIN
Patrin is a Rom website. It was begun in English and Romani by Marko Courbet, a French Rom, in memory of his grandfather José, who lived with Caravan Galuchon when it numbered more than a hundred wagons. José was a young man in 1941 when he was placed in a Gypsy internment camp in Vichy France with his wife Carmen and the rest of his family. He was later sent to a forced labor camp from which he escaped. He joined the Resistance, was captured, sent to Germany, escaped and was recaptured. After Liberation, Caravan Galchon was reduced to thirty wagons.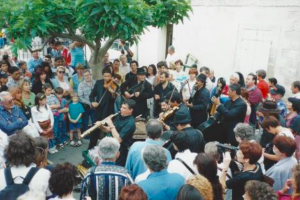 Harold Lush told me about another Romani gathering, at Saint-Anne-de-Beaupré, 35 km (22 mi) northeast of Québec City on the Saint-Lawrence River. I was skeptical that it would be as electrifying as the one at Saintes-Maries, but it was not far from my home and I had a romantic image of Québec, so I decided to spend a few days there. I sent some of my Saintes-Maries photos to Harold and he must have forwarded them to Courbet. I was surprised and delighted to receive an email requesting prints of my photos. I have reproduced our correspondence on 24 June 1997 in the form of a conversation.
Ken: Hello, I was honored to receive your response to the photos and would be happy to send you the ones I sent to AGRI. I have sent a request about duplicates and will let you know the result. In the meantime, please send your address and I will mail as soon as possible. I must thank you for the wonderful site you maintain. I have been downloading it regularly and am full of admiration for the service you provide. I have made reservations to attend the festival in St. Anne de Beaupré, Québec, in July.

Courbet: Thank you for your prompt response! I must also thank you for your kind remarks about the Patrin which I will pass along to the volunteer staff! You may send your photos to our photo scanner at Patrin, Tanner, PSC 3, Box 1219, APO AP 96266, USA. Please let us know about your visit to Beaupré! We would be very pleased to post any photos and/or comments you may take of the festivities there, also! Sastimos!
On the Patrin home page [6] scroll down to "Romani Customs and Traditions." At the end of that page there is a tab for "Saintes-Maries de la Mer, France" and a tab "Saintes-Maries de la Mer 1997, Photos by Ken McNaughton." On my page there is my photo of the fortified church and some explanatory text: "The Gypsy pilgrimage begins May 24-26 every year in the southern French town of Saintes-Maries de la Mer to celebrate Saint Sara's annual return to the shores of the Mediterranean. Among Rroma, she is known as 'Sarah-la-Kali,' or Sarah the Black. Roma from all over the world gather here to view the reliquary of Saint Sara's remains as it is carried in a procession into the waters of the sea, and perhaps to touch the reliquary which is imbued with miraculous healing powers. During this gathering, which begins days prior to the procession to the sea, Roma celebrate reunions with family and friends with music and dance. The curious gadje are welcome to participate in dance and song on this joyous occasion."
There are two tabs for more of my photos. "Procession to the Sea" opens with my photo of the church bell tower, with some people sitting on the roof in the foreground. Click on the thumbnail at left and it is enlarged in the top frame. A woman in an ornate costume emerges from the church holding the hand of a little boy in regular western dress. Click on the next four thumbnails and they are consecutively enlarged to show the reliquary of the saint on her journey to the sea, surrounded by a crowd of Roma. The "Music and Dance" tab opens with my photo of Chico Bouchikhi. If you enlarge the first two thumbnails you will see the boys playing guitars just before Chico arrived to pick up the pace. The next two photos show a dense crowd around a large group of Tzigani musicians who had CDs for sale. The three photos at bottom are of the night-time dance group I described, from left to right: the youngest daughter, in pencil skirt and black clogs; a Roma couple; and an older daughter.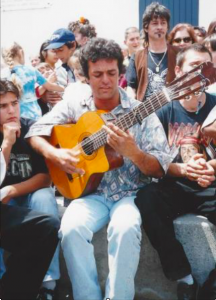 On October 31st, Steve Balkin, Adjunct professor of Economics at Roosevelt University emailed Courbet: "Hi Courbet and Ken McNaughton. We made your website, 'website of the month' on OpenAir-Market.net. Keep up the fine work."
After I returned from Quebec I emailed Courbet on July 28.
Ken: M. Courbet, There were not a lot of Rom at St. Anne—I would guess around 100-200 in a crowd of thousands. No music in the streets, restaurants or camping parks. The feast has some pluses for religious devotees and regulars, but the overall Rom attendance was disappointing. I enjoyed my trip.

Courbet: I am glad you enjoyed your trip. The Saint Anne gathering does not co[m]pare to Sts. Maries, I'm sure (although I have not personally visited St. Anne.)

Ken: I brought back a fascinating article from the Toronto Globe and Mail about how Edgar Bronfman, Canadian billionaire, chairman of Seagram & Co., and head of the World Jewish Congress, has beaten the Swiss banks into submission and is now turning his attention to the Vatican's role and responsibilities with respect to the Holocaust. Would you like me to forward a copy? Is there someone who is coordinating, or could coordinate efforts to see that the rights of the Rom are properly represented in this matter?

Courbet: Dr. Ian Hancock, with others from the International Romani Union, are following the developments in the Swiss banking scandal closely. If you would like to contact him his address is: International Romani Union (US Office), Manchaca, TX 78652-0822 USA. email: xulaj@mail.utexas.edu. I appreciate greatly your contributions to the Patrin. Your generosity is sincerely welcome.
IAN HANCOCK
Ian Hancock was born in London in 1942. His mother is Romanichal. The Romanichals are thought to have arrived in England in the 16th century. Unlike Romani populations in other parts of the world, they do not have South Asian traits and are not a visible minority; many are noted for a fairer phenotype than that of other Romani groups in Europe. Hancock's father was part Romungro, the descendant of a Hungarian speaker of North Central Romani named Imre Banczi. Hancock acquired his surname through Imre's daughter Maria, who married a member of an English West Country showman family of that name. In the late 1960s Hancock became a Romani rights activist after reading reports about anti-Romani discrimination in Britain. In 1971 he graduated with a PhD in linguistics.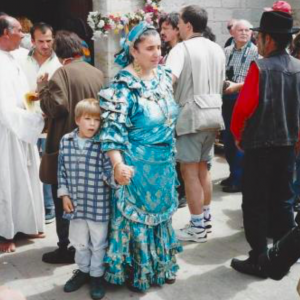 Hancock is director of the Program of Romani Studies and the Romani Archives and Documentation Center at The University of Texas at Austin, where he has been a professor of English, linguistics and Asian studies since 1972. He has represented the Romani people at the United Nations and has published more than 300 books and articles concerning the Romani people and language, particularly the Vlax dialect. These works analyze the Romani people through Romani linguistics, history, anthropology and genetics. He argues that the Romani people are descended from Indian prisoners of war of Mahmud of Ghazni who conquered the eastern Iranian lands and the northwestern Indian subcontinent (modern Afghanistan and Pakistan) from 997 to his death in 1030. Mahmud turned the former provincial city of Ghazna into the wealthy capital of an extensive empire which covered most of today's Afghanistan, eastern Iran and Pakistan by looting the riches and wealth from the then Indian subcontinent. During his rule he invaded and plundered parts of Hindustan (east of the Indus River) seventeen times. Hancock points out a "Pariah syndrome" through time and space, culminating in the attempted genocide of the Romani people at the hands of Nazi authorities, simultaneous to that of the Jews, and part of the same "Final Solution of the Jewish and Gypsy Problem" project.
I emailed on July 31st:
Ken: Dr. Hancock, I was at the Feast of St. Anne de Beaupré over the weekend and saw in the Toronto Globe and Mail a fascinating article about how Edgar Bronfman brought the Swiss banks to their knees and is now turning his attention to the Vatican. I asked M. Courbet at The Patrin who is coordinating the interests of the Rom and he suggested I contact you. Would you like me to fax or mail the article? Best wishes, Ken McNaughton, Associate Publisher, The Industrial Physicist, One Physics Ellipse, College Park, MD 20740-3843.

Hancock: I would be very happy if you'd mail it! Our address is International Romani Union, Manchaca, Texas 78610-0822. We are in the middle of the whole Swiss Banks business and have filed our own suit.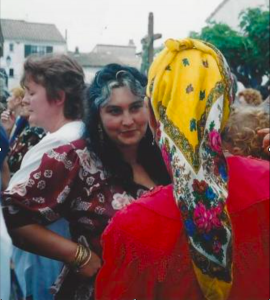 In 1997 Dr. Hancock was moderating an invitation-only online chat forum called Romnet. This was designed to disseminate information about Romani issues and to provide an international forum for Roma and Roma sympathizers to discuss issues, particularly of a social and political nature. On August I emailed him about a CNN special on Romani Schools in Hungary. The subsequent somewhat disjointed email correspondence from August 19-20 reveals how I was invited to join Romnet.
Hancock: Those were bits taken from the longer CNN special airing today (19th) which I emailed about a little while ago. There is plenty of material on the Gandhi School, you should contact the Romnet people in Hungary direct, for more info.

Ken: Did I miss something? I have not received anything else about the CNN special. Do you know what time? I did receive a Website for CEUS from Courbet, but I am not sure of the Romnet address.

Hancock: Oh—are you not on Romnet?

Ken: No, I am not on Romnet. Please let me know if can participate when you get time.

Hancock: I just put you on. But do participate, we discourage 'lurkers.'
I felt honored to be included on this forum with Roma and their sympathizers around the world. Despite the threat of being labeled a 'lurker,' I observed the chatter for some time before I plucked up the courage to inject my thoughts. These people had been abused by establishment types like me for centuries. What would they think of my opinions? Dr. Hancock sent an end-of-year message that started, "Hello Romnetters. This past year has been the best yet for Romnet. The topics covered and the networking it has generated have really been impressive."
Harold Lush had sent me a notarized certificate (No. 1060) of AGRI membership, stating: "Ken McNaughton is hereby recognized as a lifetime member of the Association of Gypsies/Romani International," dated June 18, 1997. When the Gipsy Kings performed at Wolf Trap shortly after, I went with two of the girls from AIP and Tina Kaarsberg, a PhD physicist who is now a senior advisor in high energy physics in the Office of Science at the US Department of Energy. After the concert I took Tina around to the stage door and presented the guard with a copy of my certificate, thinking it might get us into the meet-and-greet with the Gipsy Kings. However, after waiting some time and seeing other fans processed, my certificate came back—there was no invitation.
1998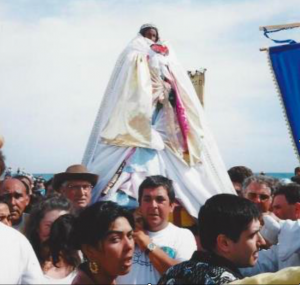 Throughout 1998 I remained involved with Romnet. I did not have internet access at home, so when I arrived at the office each morning I read all the new entries and printed some of particular interest. At home I would compose my own contributions and carry the MS Word document back to work on a disk, so I could post them without taking up too much time. I suggested online we should get together in person and managed to arrange some small group meetings. Twice in
Washington DC we met at Cup'a Cup'a (now renovated by Bob Kinkead as Campono), next to the Kennedy Center. On some of my business trips we met in the ground floor café at the hotel where I was staying—twice in Los Angeles and once in Chicago. We ordered coffee and snacks, chatted, and put faces to the names and correspondence we had seen on Romnet. Although Harold Lush lived near Chicago, he begged off that meeting, citing poor health. I didn't take a lot of photos. Once in Washington a doctor at a major hospital said he had not "come out" with his Romani heritage to his colleagues and was nervous about being identified.
When I took my musician friend Christina Van Norman to see the Gipsy Kings at the nearby Merriweather Post Pavilion in Columbia I worked my way to the front of the stage by the end of the concert. Paul Reyes, who had been standing at the far left of the group, walked to the front of the stage. Out of the thousands of people attending, and the dozens of people in the front row, he bent down and offered me something. I was so shocked, I recoiled. He also recoiled and threw some pieces of white paper into the crowd over my head. I suspect they were after-party tickets—something I had always wanted. But Christina, who is a country musician, had not warmed to the concert, and I was concerned that if I wanted to "party on" and she wanted to go home, there would be a conflict.
1999
British born Jasmine Dellal was based on the West Coast and was making a film called "American Gypsy: A Stranger in Everybody's Land." She asked on Romnet if anyone could go to the National Archives in Washington DC for a piece of film. I volunteered and maneuvered my way around that labyrinth. An officer seemed impressed and congratulated me. Jasmine listed me as a production assistant in her credits, which you can read on the link [7]. Ian Hancock appears in the movie and he and Jasmine spoke at the East Coast premiere, which I attended. Two other fine Roma movies this year were "Gadjo Dilo" by Tony Gatlif and "Black Cat, White Cat" by Emir Kusterica, who also directed "Time of the Gypsies" (Best Director, Cannes 1989). We were all very excited to learn that six groups of international Romani musicians were to tour the USA in April as part of the "Gypsy Caravan."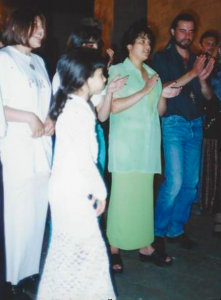 On Romnet I encouraged Jasmine to film this. I don't know if she had already planned to, but she followed the musicians around the USA with her cameras, assistants and equipment. I joined them backstage in Washington DC and again in New York. After the concert in New York the party continued with some of the musicians through a string of venues. We went to their hotel, to a couple of restaurants and to a disco. At one restaurant there was not enough room for music and dancing so I went across the street and asked the owner of another one if it would be OK if a bunch of Gypsies arrived. He agreed, so I asked if it would be OK if they played music and he agreed. Forty or more of us ate, drank, listened to the music and some danced. At the end, the crowd slipped away and I was left with the entire bill! At the disco a crowd of us watched in amazement as one of the musicians from the Hungarian group Kalyi Jag slapped his thighs and dazzled us with lightning footwork.
Taraf de Haïdouks (Band of Brigands) is a Romani troupe of traditional musicians from Clejani, Romania. Their polyphonic sound incorporates violin, double drum, accordion, flute, cimbalom, double bass and some wind instruments. The plaintive vocals and in particular, the unique violin stylings of Nicolae Neacşu have a powerful impact. In "Latcho Drom," Nicolae pulls on one broken string in a painful spasmodic manner that could make you cry. "Ballad of the Dictator" includes the lines:
Come out, Romanian brothers,
Let's wipe out the dictatorship
Ceauseşcu hears them…
Toward the end of our festivities in New York it was decided to move the party downtown. But how do you move forty or more from midtown Manhattan, including several Gypsies from a tiny village in backwoods Romania? Jasmine asked me to take Nicolae Neacşu and his violin in a taxi and gave me the address. It was just me in the front seat, not knowing a word of Romanian, and Nicolai in the back with his violin. Sadly he died three years later. Jasmine's film "When the Road Bends: Tales of Gypsy Caravan" was released in 2007.
When the Gipsy Kings held their summer concert at Pier Six on the waterfront in Baltimore I finally got backstage. I was wandering around after the concert, looking for a way in, when I ran across a girl coming out. I told her of my sad quest and she brightly offered me her backstage pass! I shook hands with several of the musicians and chatted with Pascal Imbert, their manager, who introduced the band at every concert in his charming French accent, "Ladies and Gentlemen, are you ready for the Gipsy Kings?" When I told Pascal I had always wanted to come backstage and had finally succeeded, he said, "You did well!"
2000
For the Gipsy Kings concert at Wolf Trap on September 4, 2000 I took Amy Biamonte, a meter maid from Ellicott City. We arrived with time to spare and were wandering around looking at the crowd when a man approached and engaged Amy in earnest conversation. I didn't know her all that well and thought it might be an old friend with some private mission, so I kept my distance. After ten minutes he went away and I asked Amy what was going on. She said he wanted her to go backstage with the Gipsy Kings. She told him she had a date and he reluctantly gave her two passes.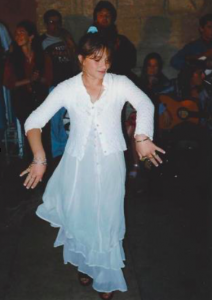 After the concert we were ushered into the meet-and-greet. I saw Pascal. I didn't know what to say to Nicolas, who, as unofficial leader of the Gipsy Kings had given me so much pleasure and inspiration over the years. I said "Gracias por la musique," and felt self-conscious. Paul was very hospitable and offered me food and drink. After a while I lost sight of Amy and walked around the room looking for her. Eventually I looked out the glass doors and saw her on the balcony, alone with Nicolas. When she eventually returned I again asked what was going on. She said that Nicolas had invited her out for a cigarette and wanted her to go back to their hotel after the meet-and-greet. She told him she was here with her "ride," but he said they could give her taxi fare. All she had to do when the meet-and-greet was over was to follow him.
I was sixty. Amy looked in her late twenties. I didn't want to squash her adventure. Pascal indicated the meet-and-greet was over. The Gipsy Kings started walking toward the exit, followed by Pascal. Amy and I ambled along with the rest of the crowd. Pascal stopped, with his right hand stretched out, pointing the way back to the concert grounds. The Gipsy Kings exited left. What would Amy do? She came with me. It was a great night. Shortly after, she gave up the Ellicott City meter-maid job and I didn't see her for some years. Then one day I was walking on Main Street and she was coming toward me. I stretched out my arms and we had a big hug.
What I didn't know was that, after the meet-and-greet had finished and the Gipsy Kings returned to their hotel on September 5th, they were joined by a group of local flamenco musicians who would become my friends and accept me into their circle of guitar playing, dancing and singing, with occasional visits by Gypsy musicians. Michael Perez, who runs a website called DCFlamenco.com, wrote a blog about that night at the hotel, with photos of the Gipsy Kings; Richard Marlow, a local flamenco guitarist; and Sara Jerez, a local flamenco dancer [8]. Michael also included a link to the blog of Kivanç Öner, who reviewed the concert [9]. In the first entry on Kivanç's blog, third paragraph from the end, on page three, Susan Loving described what happened at the meet-and-greet on September 4th, including this: "Could Nicolas possibly BE any nicer? He had gone outside to smoke and talk to a woman and I interrupted him twice—once to sign my CD cover (and ask about the new album) and once so that Jeanne could have her picture taken with him."
It was clear I was not going to become a Gypsy, and I realized I could never be accepted as one of them, despite my interest and sympathies. Ian Hancock told me that Harold Lush was not a Gypsy, just a wannabe, like so many of us. There were some heated clashes on Romnet and Ian threated to shut it down. I wrote an impassioned appreciation, which drew some applause. Romnet continued for a while but eventually ceased.
2001
The first three paragraphs of my 2001 end-of-year newsletter read as follows (slightly edited):
Figure 11. Younger daughter steals the show in her pencil skirt and black clogs.

On 19 January I attended a performance of Arte Flamenco at the Mexican Consulate in Washington, DC. I recognized some faces in the crowded hall from some of my local flamenco and Gypsy forays, and was amazed to find some empty seats in the center of the front row. Here I chatted with Michael Perez, who delicately explained that these seats were reserved. Shortly after I vacated they were occupied by the Spanish ambassador, who introduced the evening's entertainment and his party. After the show I hung out with a beautiful dancer from the troupe, half-Nicaraguan Sara Jerez, and Michael took a picture of the two of us on the red-carpeted consulate staircase, which he later posted on his Web site (Fig. 12).

This event set the tone of my social life for the year. On several Saturday nights I drove to Catalan West, a gorgeous Barcelona-type tapas bar and restaurant on F Street at 13th in Washington that had two or three flamenco sets on Fridays and Saturdays. Mostly I would sit and eat at the bar, watch the sets, and talk with the dancers, musicians and aficionados: Torquato Zamora, the Spanish guitarist; Edwin Aparicio from El Salvador, the lead male dancer; and Natalia Monteleón, the director of Arte Flamenco, whose pupils made up most of the dance troupe. Some nights I would go instead to Bambule, another bar/restaurant in nearby Friendship Heights, where the resident guitarist is the prodigious Richard Marlow, Sara's fiancé. Here I would eat at the bar, sit with my flamenco friends in a circle of leather chairs in front of the musicians, and join in palmas (hand claps) when I felt emboldened.

Washington probably has the most vigorous flamenco scene in America (certainly better than New York City), with several nearby schools, at least one or two shows six nights a week, and all held together by Michael's marvelous website, which is known even in Spain. I built a small dance floor and, for my birthday on Sunday 22 July, held a flamenco garden party with a number of dancers, musicians, latinas, and latinos in a beautiful afternoon and evening of fun, all catered by Devon PotIer of Ellicott City's Jahva House. The same week there were two other flamenco parties I attended, one held in Potomac by the beautiful and talented Sandra Bishop, half-Ecuadorean singer, dancer, and comedienne who has a show called "badtv" on New York City Cable. I hesitated to join in the dancing at her party, but she took me by the hand and said, "Let's rip it up," so we did.
2002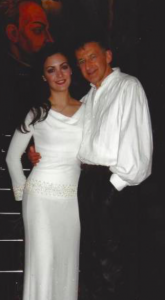 In Baz Luhrmann's 1992 movie "Strictly Ballroom," Scott Hastings is a ballroom dancer. He dances to his own beat, which does not sit well with the Ballroom Confederation. When his regular partner drops out before the Australian Pan Pacific Championships, Scott teams up instead with ugly duckling Fran. At her house, her immigrant father Rico, played by Antonio Vargas, teaches Scott the pasodoble, which inspires him to the next level. Antonio Vargas was born in Casablanca and moved to London with his family when he was nine. He had various dance teachers but not being tall enough for ballet, turned to flamenco, like two of his aunts, and moved to Spain. He formed his first flamenco dance company in 1962 and expanded his interests into opera, theater, television and film. He performs and teaches internationally, including at Dance Central in Sydney.
In the spring of 2002 there was a street festival in Washington DC, inspired by the annual fair in Seville. There was plenty of paella and sangría and Spanish costumes and music for sale. Flamenco schools from all around the area performed mini concerts, on stage and in small casetas. I was watching some of my flamenco friends perform Sevillanas in a caseta and found myself standing next to Antonio Vargas! We chatted about Australia and "Strictly Ballroom." I had been attempting to join in the palmas with my friends, and Michael Perez had given me one or two tips. I felt I had a decent sense of rhythm, and understood the difference between a wet clap and a dry clap, but the complex timing of the various styles was beyond me. I could join a lineup and enhance the beat, but had to be careful not to tread on the real pattern. One of my greatest thrills was to be in a lineup when one of the group broke into contratiempo and the pace doubled. That is what happened this day: while I was standing next to Antonio Vargas, the two of us clapping in time, and he broke into contratiempo.
I also had to be careful about dancing with my flamenco friends. It was common for the most professional dancers to be on stage first. My favorite style is rumba, which is not strictly flamenco, and mine is best described as creative freestyle. I would always defer to the professionals, but if there was good rumba music and a likely partner, I could not hold myself back from taking the floor. It was a bonus to sense my flamenco friends picking up the beat with palmas, and icing on the cake if someone was able to go into contratiempo.
On October 19, 2005 I went to a restaurant in Georgetown DC called Café Bonaparte, owned by an Afghani family whose son, Omar, was the manager, and who recognized me from a film set we were both on. Three of my friends were playing flamenco—Michael Perez on guitar, Behzad Habibzai (an Afghani) on cajón and Carlton Ashton on vocals. Then who should show up but Antonio Vargas! There was only a small crowd and not much floor space, so I asked Omar if I could rearrange the tables. He agreed, and shortly after, Antonio got up to dazzle us with his footwork.
I continue my interest in flamenco and always enjoy seeing Romani performers. There are three major annual events in this area—a Flamenco Festival at the Lisner Auditorium at the start of the year, which includes major performers from Spain; the springtime Feria de Seville in the grounds at Strathmore in Bethesda; and another Flamenco Festival at the DC Gala Hispanic Theatre in the fall, again with a major troupe from Spain.
RESOLUTION
In 2004 David Malvinni published a book called "The Gypsy Caravan: From Real Roma to Imaginary Gypsies in Western Music and Film" [10]. When I discovered this in 2016 I was delighted to see I was listed in his acknowledgements. David is on the Adjunct Faculty of the Music Department at Santa Barbara City College, which was founded in 1909 and in 2013 won the Aspen Prize for Community College Excellence from among a thousand colleges nationwide. It has 146 academic departments; the Chair of Music has four fulltime faculty and eleven adjunct faculty. David's book concentrates on the Romani influence in classical Western music. I was particularly interested in Chapter 10: "Gypsiness in Film Music."
After acknowledging his major sources, David added another paragraph of acknowledgments. I love being included in this list along with Jasmine Dellal and some of my old friends from Romnet; it makes me feel I do have a place in the Romani world after all.
In the course of preparing a manuscript as wide-ranging as this one is, there have 
been numerous people I have met here and in my travels who have influenced my formulations, in some cases profoundly. To all of these, and others whom I may have not 
have mentioned, I express my sincere thanks and gratitude: David E. Schneider, Judit 
Frigyesi, Laszlo Kelemen, Rudko Kawczynski, Marko Knudsen, Asmet Elesovski, the 
participants of the Good Practice Projects Conference (Hamburg, 2001), William 
Rosar, Speranta Rădulescu, Margaret Beissinger, Phil de Fremery, Michel Winter, 
Stéphane Karo, Jonathan Bellman, Lynn Hooker, Tom Merino, Ken McNaughton, 
Rana Halprin, Michael Stewart, Jasmine Dellal, Alejandro Planchart, William F. Prizer, Tim Cooley, Miriam Whaples, Jacques Derrida, Ivan Fischer, Sonia Tamar Seeman, Kalman Balogh, the musicians of Gypsy Caravan and Okras Ensemble.
REFERENCES
La Negrita, Djelem, Djelem 5 min. 56 sec., uploaded by Tickouss 26 May 2009.
La Negrita, Rumba 4 min. 59 sec., uploaded by Tickouss 26 May 2009.
La Negrita, Sainte Sara 6 min. 15 sec., uploaded by Tickouss 27 May 2009.
Manitas de Plata, Por el Camino de Ronda 8 min. 5 sec, uploaded by Confessa1, 15 April 2007.
Gipsy Kings, Bamboleo 3 min. 45 sec, uploaded by Ygor de Sant Anna, 7 August 2009.
Dellal, Jasmine, American Gypsy: A Stranger in Everybody's Land Little Dust Productions, 1999.
Perez, Michael, After the Gipsy Kings Washington DC Area Concert in September 2000.
Öner, Kivanç, U.S. Tour 2000, Washington, D.C. area, September 4, 2000, Wolf Trap Gipsy Kings.net.
Malvinni, David, "The Gypsy Caravan: From Real Roma to Imaginary Gypsies in Western Music and Film," Routledge, New York & London, 2004.
COPYRIGHT
This work is copyrighted and may not be reproduced in whole or in part in any medium without written permission from Ken McNaughton, 3778 College Avenue, Ellicott City, MD 21043; phone/fax: 410-418-9340; kjmcn@comcast.net (28 April 2016). High resolution photos are available on request.