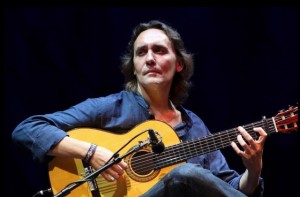 I can still remember when Vicente made his USA debut here in our Nation's capital fourteen years ago in February 2002. Of course I went backstage to meet him and to express my appreciation for his music which has been a huge inspiration for me as a lifetime student of the flamenco guitar.
Enough reminiscing, here's the info you need to know. On Sunday March 6, 2016 at 8:00pm Vicente Amigo performs at Lincoln Theatre 1215 U St NW in Washington DC. Joining him:
Antonio "Añil" Fernández, second guitar
Francisco "Paquito" González, cajón
Ewen Vernal, bass
Rafael de Utrera, cante
Antonio Molina "Choro," special guest bailaor
Tickets are available via Lincoln Theatre's website at http://www.thelincolndc.com/event/886191-vicente-amigo-washington/
TICKET GIVEAWAY: The Lincoln Theatre has authorized me to hold a drawing for a pair of free tickets to Vicente Amigo's concert on March 6, 2016. All you have to do is provide your name, email and opt-in to be on Lincoln Theatre's mailing list. The cutoff for entries will be at noon EST on Tuesday March 1st. I'll randomly draw a name from the submitted entries on Tuesday March 1st and announce the winner here. Good luck!
UPDATE: the winner of the pair of free tickets is Victor Tarrasov. Congrats Victor and see you at the concert!