Guest review by Ken McNaughton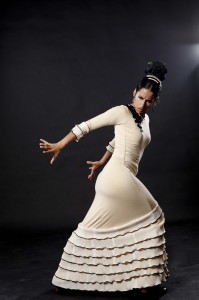 I started attending the annual Fuego Festival at the Gala Theatre in 2008. That year I went to all three branches of this program…the visiting Spanish troupe, the Washington-DC-based troupe led by my friend Edwin Aparicio, and the family workshop. Michael Perez was kind enough to post my review on his DCFlamenco website. The next year I went to Fuego Festival V to see José Barrios & Company and again Michael posted my review. Each year, the selection and management of the visiting Spanish troupe is handled by Begoña Fernández Pellìcer from the Fundación Conservatorio Flamenco Casa Patas. In 2015 it was headed by the dancer-choreographer Karen Lugo, who also visited three years ago, albeit with a different company.
After the curtain rose it took me a while to figure out the four or five long boxes behind the musicians' platform at the back. But then I noticed the brilliant changing colored backdrops. Two dancers stood together stage-right, looking toward the audience stage left. The beautiful young woman was directly in front of the solidly built man, silhouetted against a sunset. Along the back were four musicians. El Trini de la Isla on vocals and palmas appeared in Fuego Flamenco III and V. Alicia Carrasco, also on vocals and palmas, was also pretty good on dancing as she showed in one number. Miguel Hiroshi was born in Japan and grew up in Granada. For the opening number he played an amplified African finger harp, which let us know that this was not going to be an ordinary night of percussion. José Manuel León was the sole guitarist. Slowly the two dancers introduced movement, unwound and intertwined in a sensuous duet. This was more intimate than a lot of flamenco, which always has passion, but often the man and the woman are conflicted or separated.
El Trini's solo was extended and I realized that, with two dancers, the format was necessarily going to be…dance, music, dance, music…to allow the dancers to recover and change costume. The variety would come from alternating duets with solos and from Karen's great choreography and charisma. In his solo her partner Ricardo Moro built up a floor-hammering crescendo called "Electrik." In ballet all the movements are carefully rehearsed but in a flamenco solo the dancer puts himself (or herself) in the bullring alone. The audience has the sword and can thrust it in the heart if they don't see blood on the stage. That is duende. The danger is palpable. We all watch to see if he is going to die onstage, each with his heart in his mouth. This is why the Gypsies (Rom) are so powerful in a tablao. We can believe the danger is real.
Ricardo was the ultimate professional. He beat his feet, and the stage, and gave the audience what they wanted. We all cheered and whistled and applauded. The male dancer is very vulnerable. We expect him to be arrogant and strong…to strut his stuff, to be contemptuous and yet available. Ricardo pulled this off and was gracious enough to bow and acknowledge those who helped pay the bill. How would Karen follow this? She was choreographer and director. She had allowed her partner to go out there and wow the audience. He was big and strong. She was slender and supple. Was she going to die onstage?
Miguel had an upturned wooden hemispherical bowl, alternately pounding and tapping on it. He sat on a cajón and occasionally hit one or two cymbals. For Karen's solo the stage was quiet, except for a gentle swishing as he ran his hands through a water bath next to a microphone. Karen entered slowly stage right, one hand slowly waving, her silhouette amplified on the backdrop. This program was about vibrations. Miguel turned the hemispherical bowl right side up and moved it through the bath to increase the volume. The pace picked up as the guitar and singers joined in and Karen took us through the paces of her endless creative movements. It is a treat to see beauty, charisma and surprise combined. She was born in Mexico and moved to Madrid aged seventeen. I was reminded of Rodrigo y Gabriela, the guitar duo who are also Mexican and such a force in nouvelle flamenco.
There was no encore and no kiss-off, when the musicians are expected to take a turn around the dance floor. Karen Lugo once again made her mark on the DC Flamenco scene just as I expect she will for many years to come all around the world.
COPYRIGHT
This work is copyrighted and may not be reproduced in whole or in part in any medium without written permission from Ken McNaughton, 3778 College Avenue, Ellicott City, MD 21043; phone/fax: 410-418-9340; kjmcn@comcast.net (15 November 2015).