[Editor's note: Longtime local supporter of the DC flamenco scene and a personal friend, Ken McNaughton, kindly gave me permission to publish his review of an Art Soiree event featuring local flamenco artists. Enjoy!]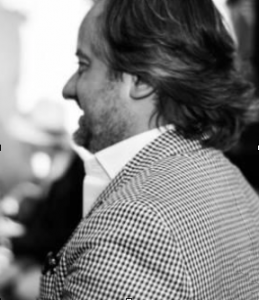 Art Soiree is organized by Sandro Kereselidze and his girlfriend Tatiana "Tati" Pastukhova. Sandro is from Georgia in the Caucasus region; Tati is from Crimea. I attended my first Soiree 18 January 2014 and my second on their fifth anniversary on 12 September, both at the Ritz Carlton Hotel in Georgetown, DC. On Friday 29 May 2015, Sandro hired some of my flamenco friends for a Rumba night at the Sofitel in Washington.
The White House is pretty much a straight shot from my house. I drive south on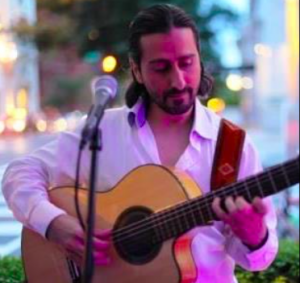 Route 29 and veer right onto 16th Street. This night I turned left on H Street, one block short of the White House and parked around the corner on New York Avenue for $8. As I walked up 15th Street, I could see the musicians across the hedge in the terrace area on the street and said hullo to Ramin Rad, who plays guitar. Michael Perez also plays guitar. He runs the DC Flamenco website, and suggested I come inside and make my way through the crowd to join them up front.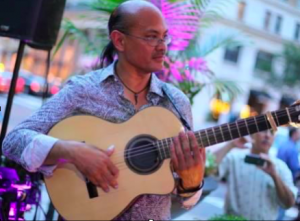 I asked Michael to introduce me to the third member of the trio, Naíto, who sings and plays guitar. I had heard of him but we had not met.
There wasn't much room but I perched on a divider, next to a young lady called Natalie. She and her companion had arrived early without knowing about the show, so she had a lot of questions. Nate works part time in a Congressional inquiry office, the same place Natalie works.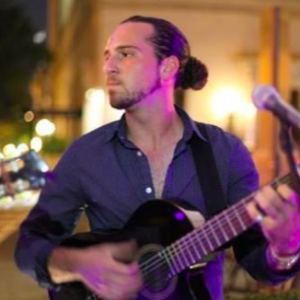 I love flamenco rumba and was looking for a suitable partner. Ginette was sitting on the same seat as Natalie and Nate, so I introduced them. Ginette is a professional flamenco dancer and does regular gigs with Michael. I spent New Year's Eve with them 2014/5, at Mockingbird Hill on Seventh Avenue. It is not cool to ask a professional to dance with an amateur, except in special circumstances. However, I spied a girl I thought I recognized from our local community of flamenco dancers, Lauren Baracaldo.
At first she was reluctant to join me and I could see another girl Nani some distance back who was volunteering to come up front. However, Lauren finally agreed and we did our best in the small space in front of the band.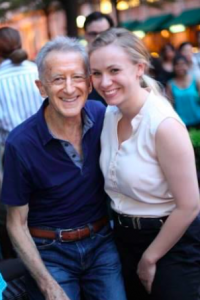 Two other girls were dancing together and I tried to indicate it would be great if they moved over. However, they took my hand movements as invitations to dance and so it was a stalemate. Lauren had a lovely style and we were a big hit according to Nate and Natalie.
Four girls filled up the small dance space. I was particularly intrigued by the style of the African American girl but there was no space to move. At the end of the first set, Michael put on some disco music and the quartet moved away. I signaled to Dee I would like to dance and she agreed. I started off with a simple repetitive rhythm and she caught on very quickly, so I intensified it. She mirrored me and I imagined we were doing an African ritual, in perfect synch. Her curly black hair brushed my face. A couple of times my wide hand movements caught her light cotton dress and flicked it up.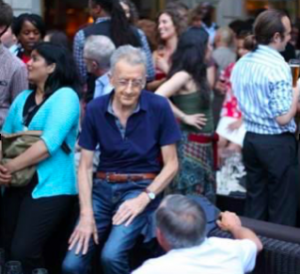 There is a move in Lindy Hop where the man does this on purpose with a repetitive flicking motion, but I was not game. It was a relatively short dance, but intense, and we both had a great time.
A crowd gathered on 15th Street to watch across the hedge. Sandro and I both noticed a lovely looking girl in a slim orange sheath. He was outside with his camera so I caught his attention and pointed repeatedly at her. But she saw me and pointed right back at me. She had been watching us dance and this was a case of mutual admiration. I blew her a kiss.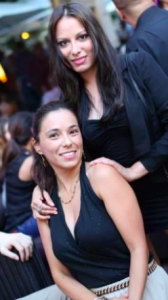 The quartet was still occupying the entire dance floor so I scanned the crowd on 15th Street to see if there were any potential partners. Nobody out there was dancing, but I could see one girl keeping a steady rhythm. I slipped through a gap in the hedge onto H Street, walked around and caught her attention. "Let's open this up," I said. She was a little surprised and hung back. I indicated to the lady on my left that we would like more space to dance, but she was adamant that this was the position from which she wanted to view the fun, so I had to lure my new partner into the middle of the sidewalk.
Her name was Wanda, and she also caught on quickly. She was more confident with contact dancing than with creative freestyle. The crowd grew quite large.
There was a line of supporters close to the gutter and some other people started to dance, so it became quite difficult for pedestrians to move along the street. Normally when I pick partners from a crowd, the band is playing relatively short numbers—anything from a pop song to an extended play.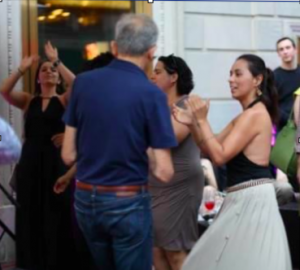 But for some reason the trio had settled into a long-play groove. I stepped on the lace of my left canvas Express sneaker and started to trip over it. Rather than stop dancing and lose my partner's attention, I took my shoe off, threw it to the edge of the pavement and danced with one sock and one shoe. I asked my partner if she was O.K. and she said yes. Sometimes when strangers dance you can run out of moves and have to agree to leave the floor, but we had been dancing for more than twenty minutes and still the band kept playing. She was a great sport. When the band finally ended this second set, we accepted congratulations from our line of supporters. I thanked Wanda and decided to call it a day. Or at least a night. Oh what a night!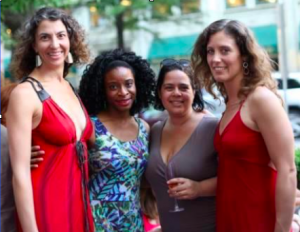 Two days later there was the Feria de Seville, an annual outdoor flamenco festival at Strathmore Music Center in Rockville. I sat on the grass under a large shady tree with the crowd on the hill and watched the one p.m. performance by Carmen de Vicente's Spanish Dance Academy. She took us on a tour of Spanish folk dance. Her students came out first in striped costumes and white drapes under their hats to perform dances from the Canary Islands. Subsequent performances by both senior and junior students took us, in different colorful costumes, through Andalusia, Catalonia, Asturias, Basque country, Galicia, Aragon and Extremadura, with suitable taped music from each area and the regional flag held on a pole at the back of the stage.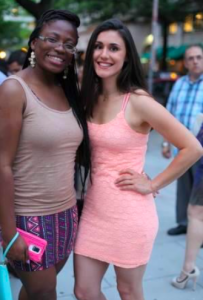 Natalia Monteleón brought her company out next, Arte Flamenco, and Edwin Aparicio's Dance Company followed with a huge cast of our flamenco colleagues, both dancers and musicians. Afterward I went up on stage to catch up with some friends and bumped into Lauren, my second partner from the Friday Rumba show at the Sofitel. Estela Velez and her husband Daniel closed the performances with their company Furia Flamenca.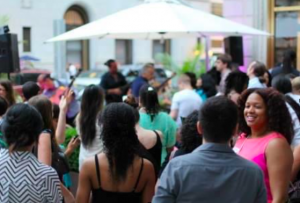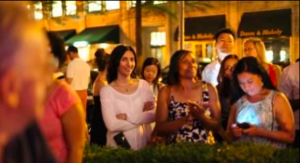 COPYRIGHT
This work is copyrighted and may not be reproduced in whole or in part in any medium without written permission from Ken McNaughton, 3778 College Avenue, Ellicott City, MD 21043; phone/fax: 410-418-9340; kjmcn@comcast.net (1 June 2015). Photos courtesy of Art Soiree. Photos of dancing motion in fading light are difficult. If you are having trouble viewing the artwork please feel free to request a PDF.