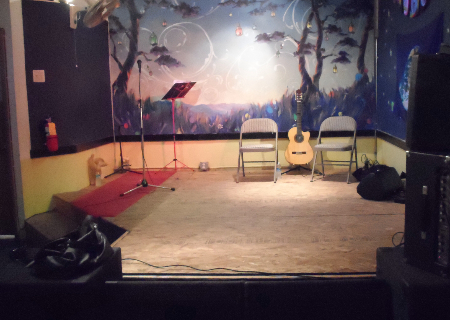 Stage all set for Sueños de Flamenco. September 28, 2013
It's almost 8pm on Wednesday as I type these words. I actually had a lot of errands to do today, but the weather was so gorgeous I ended up getting some exercise and fresh air walking around DC. Now I'm back to productive mode. Going to crank out a quick blog for you and later on pull an all-nighter recording some rumba backing tracks for a corporate gig I'm doing Thursday.
So this past Saturday, I performed in "Sueños de Flamenco" at Electric Maid in Takoma Park. I had the pleasure of sharing the stage with singer AVIANA and flamenco dancer Pam de Ocampo and a few other very talented artists in this very intimate venue.
Before the first artist walked onstage, AVIANA explained to the audience of about 20 attendees the concept behind Sueños:
It's meant to be a sort of flamenco open mic night where dance, guitar and cante students can try out what they're working on in front of an appreciative live audience. Admittedly it's not exactly something new: local flamenco dance teachers have their usual end of semester student recitals and performance classes.
Years ago we used to have Sala Rociera parties which was mostly Sevillanas dancing purely for fun but there was always an option for flamenco students to perform accompanied by live music of course. In any case, I'm glad to see that AVIANA is bringing this flamenco open mic concept back. She does all the work of booking and paying the upfront costs of putting on the concert like venue rental and selecting the artists. The cover charge of at the door goes towards covering those expenses.
So let's talk about this past Saturday's concert.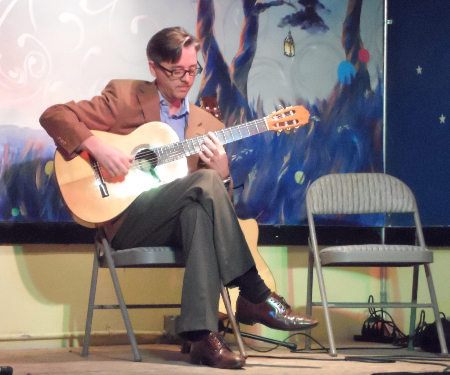 Guitarist Steve Svoboda opening the show. September 28, 2013
My guitarist friend Steve Svoboda had the privilege of performing at the first "Sueños de Flamenco" back in August and was invited to perform again this past Saturday. So he came prepared. Instead of using the house microphone, he brought his lavalier clip-on condensor microphone which conveniently attaches to the soundhole of the guitar. It sounds good and eliminates the need for a microphone on a stand…overall a better visual presentation. Nice job Steve!
[wp_ad_camp_1]
While I'm all for the performers' mantra of always dressing to impress, one could wear whatever makes them feel comfortable at Electric Maid: it's a very informal kind of place, but in a good way. Regardless, Steve always dresses well. This is showbiz after all. While audience is there to appreciate the live music with their ears, it never hurts to look presentable if one is going to be onstage in the spotlight.
I asked Steve what he played. His reply:
"Cavatina, the theme to the Deer Hunter, by Stanley Myers, an Adagio by Julio Sagreras, and two Danzas Arabes by Sabicas called Noches de Arabia and the other Damascus."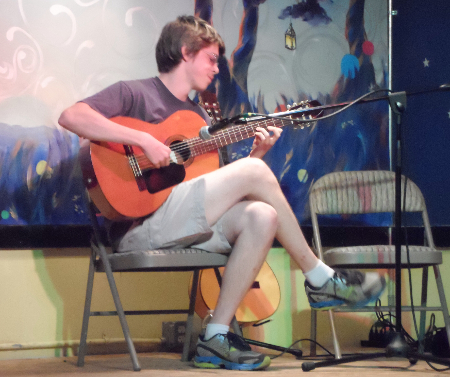 Young up-and-coming talent: guitarist Scott Zimmerman. September 28, 2013
Next up was guitarist Scott Zimmerman, a very talented young musician who currently studies flamenco with Marija Temo. At the age of 21, he's already been playing guitar for 10 years and focusing on flamenco the past 3. He played three pieces: something by Tommy Emmanuel, Asturias by Isaac Albéniz and a taranta inspired by Vicente Amigo.
Incidentally, Scott is also playing alongside yours truly in La Miri's flamenco dance classes every Tuesday and Thursday at the University of Maryland. I'll write about that in the next couple of weeks.
As you know, this blog focuses on flamenco and while the next two artists do not fall into this genre, they still deserve mention here. Both are highly-skilled experienced performers who provided a nice contrast to an otherwise mostly-flamenco program.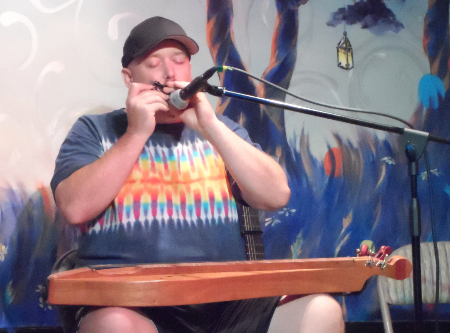 Takoma Park local multi-instrumentalist Chris Colvin. September 28, 2013
AVIANA announced that Chris Colvin was a spontaneous addition to the program. It so happened he was doing a gig a few doors down from the Electric Maid. I think Chris was walking by the Electric Maid when AVIANA spotted him and invited him in. Chris is quite the versatile musician playing guitar, bass, harmonica, didgeridoo and lap dulcimer. For his impromptu guest appearance he played a very lively set of pieces on lap dulcimer and harmonica.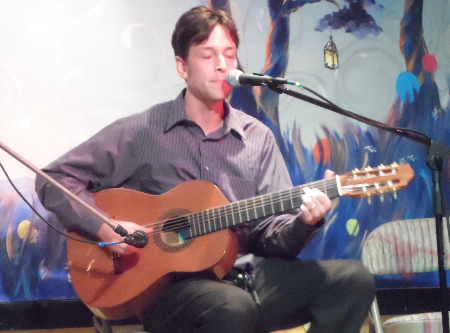 Brazilian jazz guitarist and singer Sotê. September 28, 2013
Next up was Sotê. If you look carefully in the photo above, you'll notice he's playing a seven-string guitar. As far as I could tell, it was in standard tuning with the lowest bass string tuned to whatever best suited the key of each song, most of the which, if I remember correctly were by Jobim. Sotê who is a native Brazilian himself remarked that he found it interesting that we Americans refer to Jobim as Antonio Carlos. Apparently in Brazil, they just say Tom Jobim.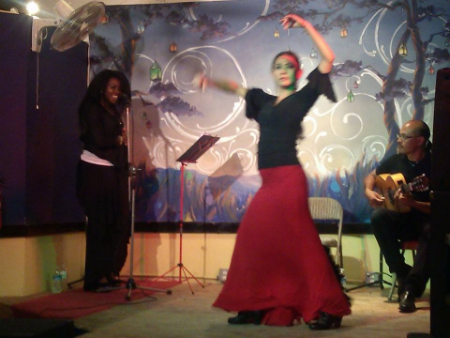 Singer AVIANA with flamenco dancer Pam de Ocampo and guitarist Miguelito. September 28, 2013 (Photo by Kelly Elaine Navies)
Finally, to close the concert AVIANA was joined by yours truly Miguelito on guitar with dancer Pam de Ocampo. Our set included:
Sevillanas danced by Pam
Tangos danced by Pam
Granadinas guitar solo by Miguelito
Rumba cante solo palo seco by AVIANA
Bulerías
I didn't actually count the number of people in the audience, but I would estimate about 20 which I'd say was decent number for the intimate size of the Electric Maid. In any case, it was a very appreciate audience and the number of local flamencos that showed up was pretty good. Thanks to all for your support. The next "Sueños de Flamenco" is scheduled for Saturday February 15, 2014. Of course I'll announce it at DCflamenco.com but for the latest updates and to inquire about performing, visit Aviana's website.