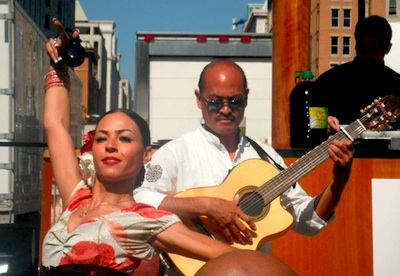 Flamenco dancer Marsha Bonet-Savchenko and guitarist Miguelito at Taste of DC. October 8, 2011 (photo by Jey Rivera)
It's almost 8pm on Sunday as I type these words. It's the Columbus Day weekend and as tempted as I am to go out tonight (since tomorrow is a holiday), I'm staying in to conserve cash and crank out a blog since it's been a few weeks.
So yesterday (Saturday), yours truly performed at the Taste of DC, a three-day event taking place on Columbus Day weekend with kiosks of DC's finest restaurants selling samples of food, wine and beer tastings and live entertainment from the well-known Styx to the local performers such as me, your humble flamenco guitarist Miguelito. 🙂
Spanning five blocks of Pennsylvania Ave in NW Washington, DC there was so much to see and do. And we just happened to be blessed with gorgeous sunny weather (which makes up the rainy weather the past few weekends).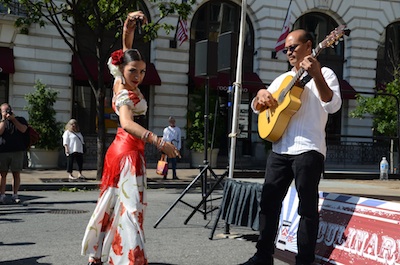 Marsha and Miguelito performing in front of the Culinary Stage. October 8, 2011 (photo by Stan Peters)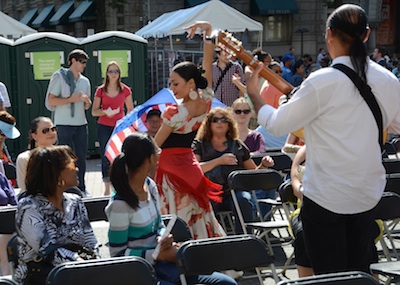 Bringing the show to the audience. October 8, 2011 (photo by Stan Peters)
The name of the festival, Taste of DC, says it all. Food is the focus. So back in August, Taste of DC contacted me to put together some flamenco entertainment to complement the paella cooking demonstration by La Tasca Washington DC. I chose to present some Sevillanas dancing—it's light, it features castanets which us flamencos know that the typical non-flamenco audience loves, and I can easily stretch out the show or shorten it by adding or cutting a copla to fit the program.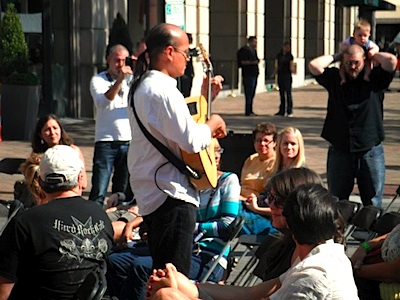 October 8, 2011 (photo by Jey Rivera)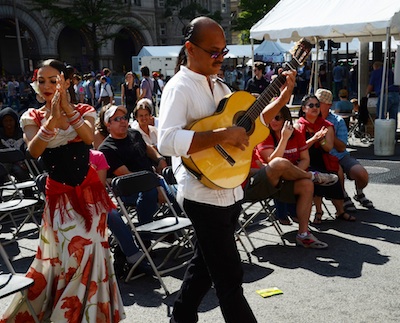 October 8, 2011 (photo by Stan Peters)
So when the chef giving the paella demonstration said something like "While the rice cooks, please enjoy performance by DC Flamenco…" And that was our cue to go on!
They had an impressive sound system which was probably geared more for public-speaking but still sounded pretty good for live music. I used my Line 6 G30 wireless so that I could follow my flamenco dancers around as they performed onstage, in front of the stage and as they brought the show throughout the audience.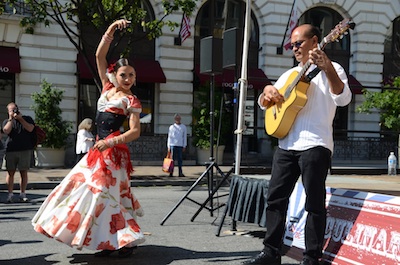 October 8, 2011 (photo by Stan Peters)
My dancers for this gig, Marsha Bonet-Savchenko and Ginette, are experienced performers and we've all done festival performances like Taste of DC countless times.
[wp_ad_camp_1]
(Speaking of which, I'll be doing a blog about Natalia Monteleón's Arte Flamenco with whom yours truly performed in four festivals the past two weekends!) One of the challenges the dancers faced was dancing on asphalt. How does one dance all out (or make it look like it) and not destroy your shoes on the abrasive pavement at the same time? It's a job so we do what we have to do to adapt to the situation.
We got tons of requests to pose for photos, but I especially loved it when a few of them asked me to explain more about the art of flamenco. And thankfully, I simply referred them to my website where they can find out about all the local shows (not just my own but everyone's), where to find teachers and read about past performances in my blog! We also of course enjoyed the perks of collaborating with La Tasca DC: free food, yay!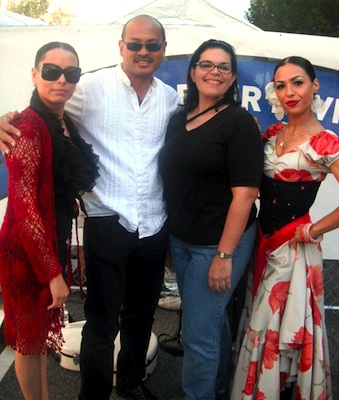 Flamenco dancer Ginette, guitarist Miguelito, my friend Jey and flamenco dancer Marsha by the La Tasca DC tent where we got some free delicious samples of paella and flan. October 8, 2011 (photo by Jaime of La Tasca DC)
PS if you missed our performance, just come to La Tasca in Old Town Alexandria on Thursdays where guitarist Miguelito (that's me!) performs Sevillanas with two flamenco dancers at 7:30pm and 9:00pm. Call 703-299-9810 to make a reservation.