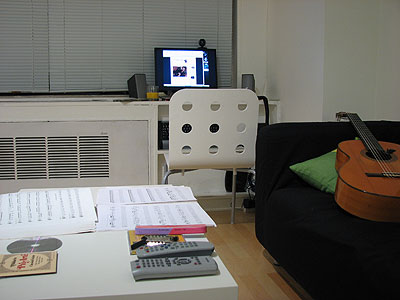 The "work" area in my beautiful comfortable apartment. August 23, 2007 12:47am
It's 1:34am on Thursday as I type these words. Actually I got home sometime around 7:00pm after spending the afternoon rehearsing with a dancer and getting a late lunch/early dinner afterwards–I had a small sirloin steak and crabcake, yum! Sorry no food pics.
Anywayz, since I got full eight hours of sleep the night before, I was able to stay more mentally focused during the rehearsal so we got a lot done, yay! Plus I was especially inspired. You know how it is with inspiration: it comes and goes without warning. So when it does come, you gotta take advantage of it while it lasts.
So I decided to spend this particular Wednesday night in practicing my guitar…
Continue reading "A flamenco guitarist's Wednesday night in. August 23, 2007"