I was just about to head out the door when I got this email from Julia Cristina. You might remember Julia. I performed with her a few times last summer. She provided a pic plus some text so it only took me five minutes to publish this. She writes: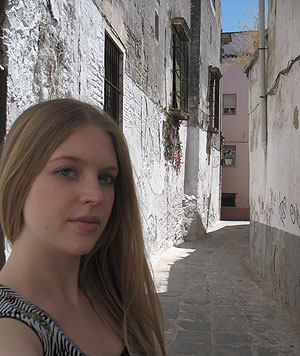 I am currently staying in Jerez de la Frontera and plan to stay here until the beginning of June. Then I'll be in Madrid for about a week (studying at Amor de Dios a little and partying too).
Jerez is beautiful–tiny and overflowing with flamenco. I am studying with Manuela Carpio and Ana Maria Lopez, both teaching me Bulerias de Jerez. The format of the classes is nice (but a little nervewracking for me at first): there are 2-4 guitarists who usually come, and the teacher acts as the singer. Each student gets about 3 turns to get up and dance a short Bulerias. Its a Fin de Fiesta every time…except the teachers can correct you if you screw up.
I am staying in a little apartment with a woman named Estela Zatania, an american journalist who has lived in Spain for about 30 years. She's a true flamenco by now–some mistake her for gitana.
This pic of me (by me) was taken on the street where Estela lives. I'll try sending another a flamenco pic or two later–I'm going to the Feria de Sevilla on Saturday which might provide me with interesting things to get on camera.
Hope all is well in DC!