Hanging out with Joaquín Grilo, Isabel Bayón, La Moneta, Manuel Liñán, Olga Pericet and Marco Flores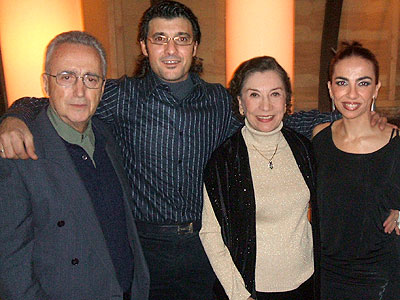 Paco de Málaga, Joaquín Grilo, Ana Martinez and Isabel Bayón. February 13, 2007 11:46pm
It's 2:55am on Wednesday as I type these words. Yeah it's late but the good news is that I got into the after-concert artist reception for free--well actually I was invited (my thanks to the staff of Lisner and the Embassy of Spain). The bad news is that going home after the metro closed at midnight, I had to take a taxi which charged me double-fare due to the weather. Oh well. At least I got some pics of the performers and got to meet them in the swanky surroundings of the Circle Bistro.
I took my time nursing a single glass of delicious red wine while enjoying a fancy assortment of tapas--although the presentation was gorgeous as they were served on silver platters by wandering servers, some of them were so artfully prepared, I coudn't quite identify what they were made of, but trust me, they were all very tasty.
I found it funny when I heard someone mention that some of the dancers seemed shorter than they expected. There's something about being onstage, apart from being elevated a few feet, that makes these dancers seem taller. Perhaps it has something to do with the fact that we are visually drawn towards them onstage and somehow the emotional impact of the cante, guitars, palmas, jaleo and percussion combined makes them seem bigger. And let's not forget good posture, line, costuming, facial expression. So many factors.
Despite their larger-than-life presence onstage, someone else mentioned that in the intimate ambience at the reception, they were pleasantly surprised that these "stars" are really down-to-earth kind of people. I found myself very comfortable just walking up and talking to them. Although I'm a bit embarrassed to admit that, with the exception of Joaquín Grilo whom I've met before here in DC, the rest of the cast I didn't really know that well at least not well enough to instantly be able to say who's who. Not that I don't appreciate them. It's happened before when I've gone to concerts in the past to see well-known flamenco artists. After the performance, I'd go backstage as usual and find that I can't recognize anyone with certainty. Well sometimes I think I know, but of course, I don't want to offend some of them by using the wrong name.
You all saw the Bienal de Sevilla show last night at Lisner, so there's no need for me to say more about the artists. But feel free to post your comments on my message board. I'll just shut up now and show you a few more pics...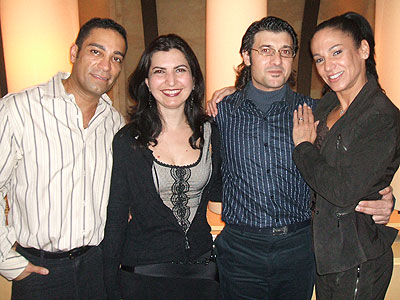 Nelson Sitton, Karine, Joaquín Grilo and Lourdes Elias. February 13, 2007 11:47pm
Well, OK, let me just talk briefly about a few of the DC flamencos I saw at the reception. Those of you who have been involved with the DC flamenco scene as long as I have will recognize Nelson. He performed for several years with the Spanish Dance Society more than 12 years ago. Recently, he was studying flamenco for a few months in Madrid and is now living in DC. Welcome back Nelson!
Of course, we all know the very lovely Lourdes Elias. Although I did admit to her that I've been neglecting her the past few years. I just realized that I haven' t published any pics of Lourdes or interviewed her recently. Note to self: schedule a visit with the Spanish Dance Society.
Karine, a local dance student and frequent supporter of the local tablao shows was there with her husband Jan. She very much wanted to meet and talk with the performers most especially Isabel Bayón. I acted as translator and I did surprisingly well in communicating back and forth. But when we were talking with Mr Grilo, I did something that a professional interpreter shouldn't do: I added a little extra commentary in my Spanish translation that Karine didn't actually say. Maybe it was the little wine I had that inspired it, but I did manage to get a good laugh out of Joaquín. When I explained to Karine what I actually said in my translation, she laughed too and said, "That's a good line." I won't repeat it here, but if you see me in person sometime, ask me and I'll tell you what I said.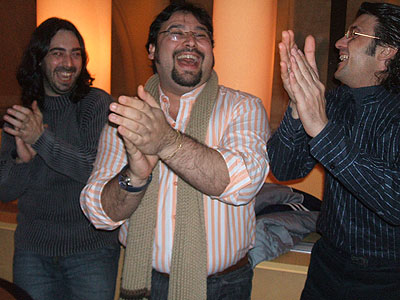 Joaquín jamming with the cantaores. February 13, 2007 11:50pm
Miguel Marín is a number of amazing things at the same time: producer, artistic director, manager, the list goes on and on. He's one of the major driving forces in making this highly successful flamenco festival happen. Combine that with strengths of Lisner Auditorium's director Rosanna Ruscetti who uses business skills, arts administration experience, intuition as an arts lover and at the same time manages to push the envelope while keeping a fine line between what the people want and what new and interesting stuff is out there. These are the people who make sure everything behind the scenes is working smoothly so the artists we are paying to see can focus on just on the performance.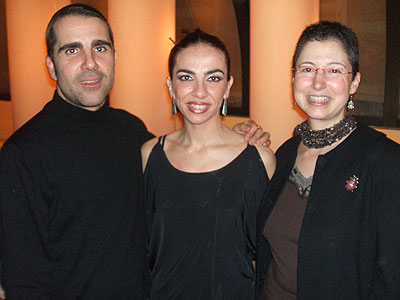 Miguel Marín, Isabel Bayón and Rosanna Ruscetti. February 14, 2007 12:01am
Of course, I absolutely have to mention Lisner's marketing director Carl Graci, who I'm in frequent contact with each year as soon as the festival artists have been confirmed. Of course, it's not just the flamencos in town that come to the concerts, but when it's time to reach the local flamenco commuinty Carl calls upon me, DC's flamenco information guru. How is it that the DC flamencos end up getting the best seats at Lisner year after year? Perhaps it's because every now and then, Carl leaks out flamenco announcements to me before releasing them to the general public, which I pass on to you the DC flamenco community!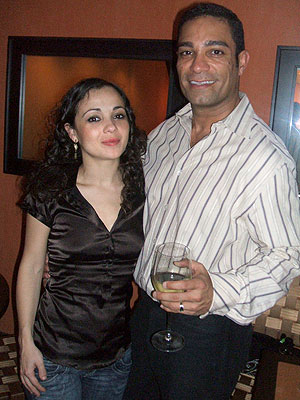 Olga Pericet and Nelson Sitton. February 14, 2007 12:15am
It seems that Nelson and Olga Pericet know each other from Carboneras tablao in Madrid. I didn't catch the whole conversation because I had to pull away suddenly when someone else called me over, "Miguelito! Take a picture of me with (insert famous flamenco artist's name)."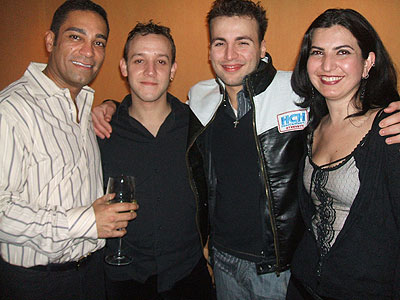 Nelson Sitton, Manuel Liñán, Marco Flores and Karine. February 14, 2007 12:22am
OK so it was cool to hang out with the stars, but more importantly I had the opportunity to talk a little about myself and make them aware that we have an active community here in DC that very much appreciates the art of flamenco. When I spoke with Olga about the performance, she mentioned that she could sense the positive energy of the Washington DC audience.
I'm very pleased that Miguel Marin selected Washington DC for the USA debut of the "Gala 2007: Bienal de Sevilla" concert and judging by the overall vibe that I picked up on at the reception, I'm pretty sure that the artists felt they got their USA tour off to a excellent start.
In my brief conversation with Isabel Bayón she described how hard it was to get so much done in so few rehearsals. In my own experience of doing several runs of the same show in a short amount of time I know that the first performance is in many ways the hardest since you don't know what to expect until you're actually out there. The anticipation drains you before you even set foot onstage. So when I asked Isabel if she was tired after the rehearsals, the travelling and the performance, I was confident she'd say yes. But instead she just smiled and shook her head, no!
Here's the Washington Post's review of the concert.
« Flamenco guitarist Gino D'Auri lives on in my heart, my soul and my music | Main | Backstage after Rafaela Carrasco's "Una mirada del flamenco" at Lisner Auditorium »