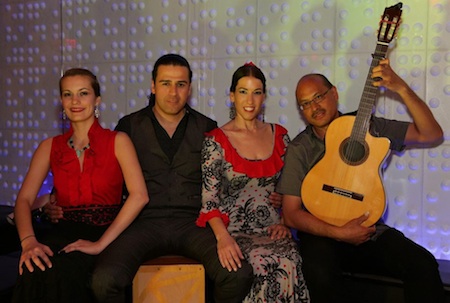 Flamenco dancers Sarah Louisa Castellanos, Jason Vera y Aragón, Yolit Yospe and guitarist Miguelito at Lima Lounge in Washington DC. April 26, 2013 (photo by Mark Kanawati)
It's 2-something pm on Monday as I type these words. So this past Friday, I had the pleasure and privilege of being invited to perform at a fundraiser hosted by Learn4Change at Lima Lounge in Washington, DC.
From the Learn4Change website:
Two Birthdays & Two Schools is our biggest event yet to celebrate the birthdays of the learn4change founders Alvin and Maria and raise funds for two wonderful organizations in La Paz, Bolivia. 100% of all donations will go directly to the children! Aywina Sindrome de Down is a volunteer-run organization that promotes social inclusion, education, and employment opportunities for children with Down Syndrome. Project Helping Hands helps marginalized Bolivian youth stay in school until they finish high school and also provides the opportunity to continue post secondary education in Bolivian technical institutes and universities.
[Editor's note: the event is over, but you can still donate online.]
As far as I know, this was the first time flamenco was performed here at Lima. Of course, I'm not forgetting that rumba group Duende Camarón gigged here in 2009. I'm talking about flamenco beyond rumba: tangos, tientos, soleá, alegrías, bulerías etc.