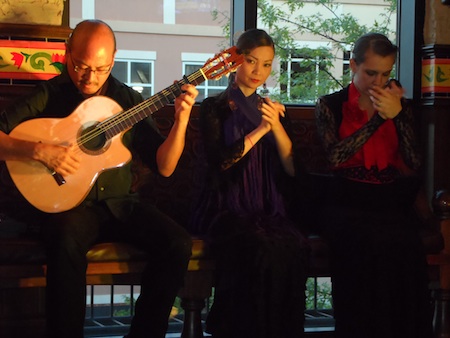 Flamenco guitarist Miguelito with dancers Kyoko and Sarah Louisa Castellanos at La Tasca Clarendon. May 1, 2013 (photo by AJ Landaeta)
It's 10-something am on Thursday as I type these words. So last night I had a gig at La Tasca in Clarendon which, lucky for me, happens to be almost walking distance from my house—love it when that happens!
You must be wondering if these Mahou-sponsored flamenco shows at La Tasca are just a one-time deal or if it's a regular thing. Well here's what's up: the Mahou brewery company (from Madrid) is making its way into the bars and restaurants of DC. And Mahou sales rep AJ Landaeta is making that happen to the delight of Spanish beer lovers.
So when a DC area Spanish restaurant adds a Mahou tap to the bar, we're adding a little something extra to the celebration with a live flamenco show. And yours truly with a few flamenco dancers will be doing a little "tour" of the DC area La Tasca restaurants.
As usual, I'll be promoting upcoming Mahou-sponsored flamenco shows of course, but you can also follow Mahou sales rep AJ on Twitter for up-to-the-minute announcements.
Here are a few pics from last night at La Tasca Clarendon. Enjoy!