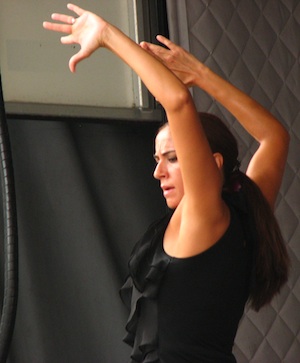 Flamenco dancer Cecilia Terrasa in soleá. August 25, 2011
It's 9:30am on Friday as I type these words. Last night's Sevillanas show at La Tasca in Old Town Alexandria was especially fun. It was packed with people thanks in part to Alexandria's Restaurant Week celebration—having more people just made it feel like a party. My dancers for the evening were Jason Vera y Aragón and Marsha Bonet-Savchenko.
Anywayz, so yesterday (Thursday) at noon Flamenco Aparicio performed in Live! on Woodrow Wilson Plaza, a free summertime performance series at the Reagan Building in Washington, DC. The forecast was for rain which definitely discouraged a lot of people from coming out to what is usually a well-attended show. Fortunately, they had sturdy parasols on the dining tables in front of the stage where the approximately 30 of us die-hard fans took shelter.

There were a few flamencos in the audience I recognized but they made me promise not to mention their names since they were taking "unauthorized" extended lunch breaks to attend.

The artists onstage: dancers Edwin Aparicio, Anna Menéndez, Cecilia Terrasa and Kyoko, guitarist Richard Marlow, singers Carlton Ashton and Hector Márquez and percussionist Behzad Habibzai.
I took about 250 pics during the 75-minute performance. Here's a random selection just to give you an idea of what you missed. Enjoy!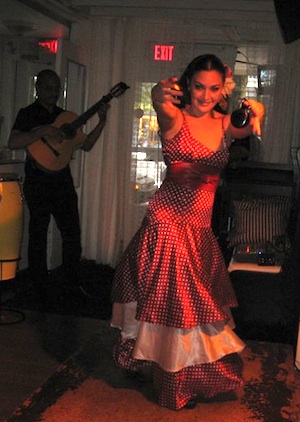 Sara Jerez and Miguelito in Sevillanas. August 13, 2011 (photo by Geeta)
It's 10-something am on Thursday as I type these words. Yeah in case you haven't heard already, after ten years, the flamenco show at Cafe Citron is no more. Not going to lie. I am a bit depressed about it. Ten years is a long time and I've made many many good memories here, made lots of new friends and had the pleasure and privilege of sharing the art of flamenco with hundreds if not thousands during that time!
Do the math. Ten years times roughly 50 weekly performances each year (factoring in the occasional cancellation due to a holiday) comes to 500 shows!
For the first eight years Citron's flamenco night was on a Monday and I kid you not, we actually drew quite a crowd and sometimes even packed the place and I emphasize this was happening on a Monday night! And I attribute part of that success during those first eight years with the fact that Citron was the only tablao in DC that had a flamenco singer, namely Gerard Moreno and later José Oretea, in the show every week. Thankfully, the owners of Cafe Citron were insistent on having cante in the show.
But as the economy took a dip around late 2009 we had to cut the budget and drop the singer and for most of 2010 up until the show was canceled in August 2011 the show featured just a guitarist and a dancer.
Truth be told, Cafe Citron wanted, just as much as I did, to keep the show going, but ultimately for reasons attributed to the economy, they had to cancel it.
And of course for the "Last Flamenco Night at Cafe Citron," I was intent on going out with a bang one last time and invited as many of the people who supported the flamenco show at Citron over the years. We did pack the place with many friends and fellow flamenco dancers, guitarists and singers. I was happy and sad and the same time as I'm sure many who attended felt the same way.
Here are some photos from the last flamenco night at Cafe Citron along with some comments that my friends emailed or posted on FaceBook. Enjoy!