[Editor's note: this blog post was originally published in September 2000 when the DC Flamenco website was hosted by a company called Geocities which no longer exists. So in honor of the Gipsy Kings upcoming concerts at Wolf Trap and Pier Six Pavillion in August 2011, I decided to bring back this blog post to reminisce about an inspiring after-party with the artists. Enjoy!]
Nicolas Reyes, Tonino Baliardo and the rest of the musicians performed at Wolf Trap's Filene Center September 4th and 5th, 2000 in Vienna, Virginia.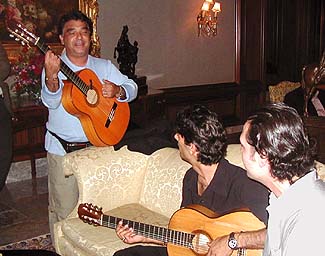 On the second night, my friends and I headed to their hotel after the concert to catch the party.
While we were waiting in the lobby, I was talking to Canut Amador and Titi, sons of Paul Reyes and Patchai respectively. (Thanks to Rachel Hernandez from Texas for the genealogical info.) My friend Juan Martín mentioned to them that I am a guitarist. So naturally, they asked me to play. When the guitars came out of the cases, the party began…
We passed the instruments around and when young Canut and Titi played they turned the guitars the other way and played them left-handed. It was something that I had never seen, at least not up close.
Apparently, some members of the band heard the music in the lobby and they started to wander in one by one. Nicolas was the only one who was willing to take my guitar and play a little.
In the picture above, Nicolas sings and plays while Canut Amador and local singer-guitarist Kivanc look on.(Be sure to read Kivanc's account of the concert)