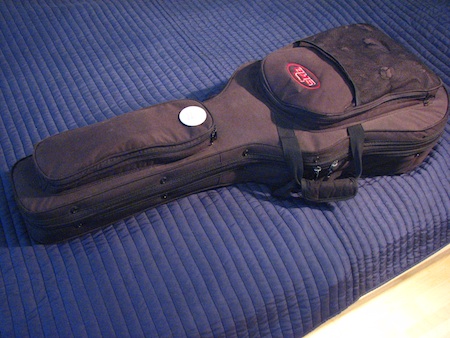 My current guitar case: a gig bag by SKB Cases. June 21, 2011
It's almost noon on Tuesday as I type these words. Believe it or not, I actually wrote a blog entry with the same title four years ago. Since then I've gone through two guitar cases—not that I intentionally abuse them, but being a busy musician playing several nights a week traveling to and from gigs, I really do put my cases through some serious daily wear and tear!
Usually it's the D-ring that attaches the shoulder strap to the guitar case that breaks. All that slinging the guitar case on and off my shoulder every day several times a day really wears it out. Sometimes it's the handle that one day totally out-of-the-blue just decides to detach itself from the case. There was one time though when I got a new case, just because I liked the way it looked. So cool in shiny black, it was almost like a fashion accessory. I loved it so much I got a second one in white!
Anywayz, as I mentioned in a previous blog entry, I'm going to Los Angeles this weekend and I just bought myself a new airline-friendly guitar case. So of course I'm going through the process of moving my guitar, music gadgets and accessories from the old case to the new. So I might as well, for the fun of it and to satisfy your curiosity, show you what's in my guitar case for 2011!