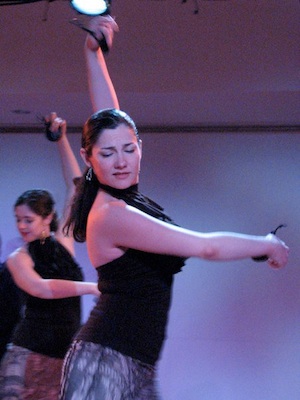 Furia Flamenca dancer Morgan at the Forum of Sidney Harman Hall. March 23, 2011
It's 12:30pm on Monday as I type these words. It's my day off and I'm spending the afternoon at Starbucks in Chinatown to work on my blog.
So yeah, with regards to the title of this entry, last week I went out four consecutive days to support my fellow flamencos!
Wednesday March 23rd: Furia Flamenca at the Forum of Sidney Harman Hall
Thursday March 24th: dancers Edwin Aparicio and Anna Menéndez with guitarist Richard Marlow at Las Tapas
Friday March 25th: dancer Emily Mazzotti at Current Lounge
Saturday March 26th: guitarists Richard Marlow and Ramin Rad with singers Hector Márquez and Naíto
Of course one of the reasons for my blogging about the DC flamenco scene is to raise the awareness of all that's going on flamenco-wise in the DC area and hopefully enticing you, my readers, to come out and see a show or two.
And yeah, I know that times are tough and most of us can't afford to go out to see a show as much as we'd like. Trust me I know—especially on my struggling artist income! Luckily I do have connections for free or discount tickets, but I can't expect freebies all the time, y'know?
Now if I'm going to be telling you all to go out and support your fellow flamencos, the least I can do is practice what I preach, right?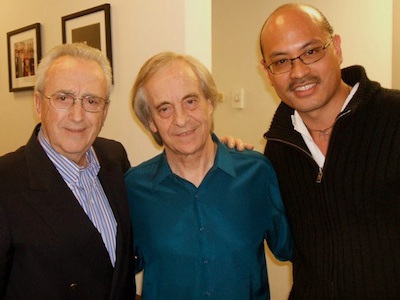 From left: Paco de Málaga, Paco Peña and Miguelito backstage at Lisner Auditorium. March 13, 2011 (photo by Josefina)
It's 4-something pm on Wednesday as I type these words. It's my day off and I've spent most of the day just chillin' of course. But while I haven't been blogging much lately, I can't let this past weekend's flamenco concerts at Lisner go by without at least mentioning it briefly so here goes...
Yeah, that's right, we didn't have a full-blown flamenco festival as we have had at Lisner from 2000-2010 but we still had something to keep us happy until the festival does come back (and it better!). This past weekend Lisner Auditorium presented concerts featuring well-known highly-respected artists from Spain:
Saturday March 12th: Dancers Carmela Greco, La Truco, María Juncal and Pepa Molina who performed with the Pan American Symphony Orchestra in Isaac Albeniz's Suite Iberia
Sunday March 13th: Flamenco guitarist Paco Peña and a company of two singers, three dancers, two guitarists and (a barefoot) percussionist
Being the busy performer that I am, I couldn't make it out to the Saturday night show although I did hear a lot of good comments afterwards. Incidentally, the dancers Carmela, La Truco, María and Pepa were in the DC area the week before giving workshops focusing on the technique and stylization of the fan, shawl, bata de cola and arms and feet. According to one of my dancer friends, the very same techniques covered in the workshops were also featured in the performance on Saturday.
Of course going to show and watching these masterful dancers perform is a treat in itself. But taking the workshops beforehand (as my dancer friend did) and seeing them break it all down and meticulously explain how it's done would give one a better appreciation for these aspects of flamenco that are often overshadowed by footwork and choreography. But alas I didn't go to this concert so I can't say much more.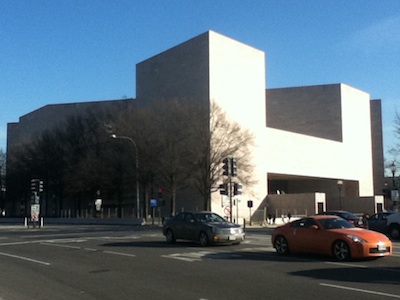 National Gallery of Art, East Building in Washington DC
It's around 11:00am on Tuesday as I type these words. I've got a ton of stuff to do today (aside from my usual gig tonight) but I after reading Philippa Hughes' commentary in response to an article titled "How to Behave in an Art Museum," I had to put my work aside and write a little something myself from a flamenco point of view.
If you follow me on Facebook or Twitter, you know by now that I go to the National Gallery and the Hirshhorn a lot. I don't pretend to know a lot about art or how to appreciate art. Of course I've done my fair share of reading a few books to get the gist of art history, at least enough to understand that some works of art may not have any cultural significance to me personally but placed in their historical context were very important. But regardless of whatever knowledge I've gained, I still go, or at least I think I still go by my gut instinct in my search for art that I like.