Guest review by Ken McNaughton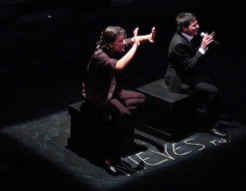 Michael, thanks for your great review of the José Barrios performance at the Gala Theatre on Thursday. I attended on Friday and ran into my friend Paula Durbin, who publishes dance reviews in The Washington Post. She said these flamenco performances really need a musical review, so I sent her yours.
[Figure 1. José Barrios (left) signs and Juan Debel sings for Nieves. ]
The Fundación Conservatorio Flamenco Casa Patas of Madrid incubates nouveau flamenco and we are the benefactors when, once a year, the Teatro Hispano Gala—under the guidance of managing director Rebecca Read Medrano and her colleague—brings us a special troupe. The performance this year by José Barrios and Company was truly a complete experience. The first standout on Friday was when the young cantaor, Juan Debel, stepped up for Noche Callada/Quiet Night. He approached two wooden cubes, where the male dancer, José Barrios, had chalked on the pavement, Nieves. Juan's cante jondo was haunting. He fully occupied the song, which he also wrote. He became the music. José signed the words, and it turns out that the song was dedicated to Nieves, a deaf friend who passed away.