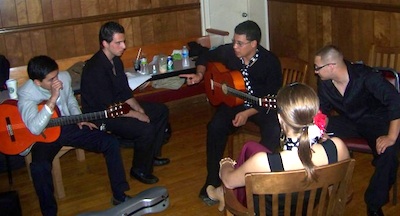 Discussing the program. From left: guitarist Wilver Hernández, singer Naíto, guitarist Hector Márquez, percussionist Mateo Romero and dancer Sarah Hart. May 28, 2010
It's 1-something pm on Monday...a mere 12 hours since I last published a blog entry today! It's 85° F and sunny outside and yes, I am indoors in front of my Mac, but I can't help it. The sacrifices I make for the DC flamenco community!

Seriously though I'm in the mood to publish something so here goes...
This past Friday, a group of some friends of mine that I like to call "Los Jovenes Flamencos," who all happen to be in their early 20's, performed in a fundraiser concert at St Michael Archangel Catholic Church in Silver Spring. I wasn't able to go, but fortunately Hector's sister Marylin and members of Wilver's family took pics. Enjoy!