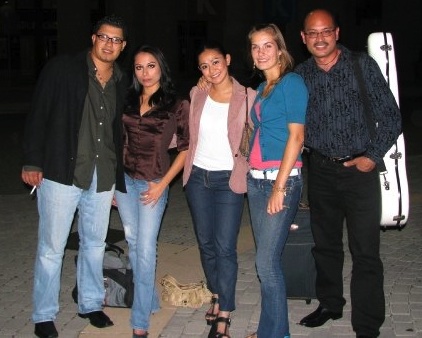 Singer Hector Márquez, dancers Ginette Perea, Pam de Ocampo, Sarah Hart and guitarist Miguelito at the Science Museum of Virginia in Richmond. September 11, 2009
It's been a long time since I last blogged, I know. So in case you've forgotten who I am (or if this is your first time here), it's me Miguelito, your trusty DC flamenco community blogger chiming in to update you on the local scene and let you know I'm still alive.

I'm not going to lie to you...I've been feeling kinda down lately, which probably explains why I haven't been blogging as much lately. With the budget being cut at just about all the flamenco tablao shows I'm just happy to still have a job. Just as mentioned in my last blog entry in August, the weekly tablao shows where I used to have two dancers (namely Las Tapas and Cabanas), there's still only a budget for one dancer. And the show at Café Citrón, I had to lay off the singer pretty much since the beginning of the summer.
On the other hand, the rumba scene seems to be faring slightly better. Besides the usual rumba shows at La Tasca, Las Tapas, Bambule and Vinoteca, the relatively new shows at Coppi's Organic, Lima and Dulles Hyatt are still going strong. This past Thursday, guitarists Ramin Rad, Richard Marlow and José Oretea started up a new show at where else but Rumba Café in Adams-Morgan.
I'm sure I'm missing a couple of other venues: there are other shows which are popping up here and there as promoter/performers like guitarist RJ Uebersezig scout out new places to present rumba. In any case, I've updated my calendar of events with the latest offering of weekly shows. So be sure to check it out and support your local performers...we need your support!
So that sums up the tablao and rumba scene. What else is going on? I suppose I should say something about the pic at the top of this page...