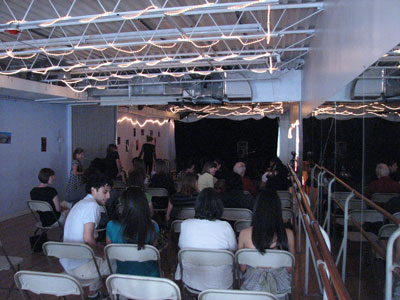 At DC Dance Collective: upstairs studio converted into a mini-theatre! The audience is just arriving. June 6, 2009 6:49pm
It's 2-something am on Wednesday as I type these words. I got home around midnight feeling tired and was so looking forward to going to bed early for a change. OK, so my body was tired, but I still couldn't fall asleep. So here I am working on a blog—I needed to catch up anywayz.

So this past Saturday, local dancer Flor Pérez Taboada (who has some great ideas to add something a little different to our already active DC flamenco scene) got to see one her ideas come to life: "Verano Flamenco."
Here's a quote from my interview with Flor last month:
...in Madrid, I hosted "Juglar por flamenco." The concept is an "open tablao," where pre-professional or foreign bailaoras, for example, can ask for a show date and perform with great musicians in front of an appreciative audience. Now everyone who knows the Madrid flamenco scene knows about Juglar. 'Cause in Madrid, as here, there are very few opportunities to perform on a real stage with great musicians without being at an advanced level and with lots of experience. Juglar has been going strong every Sunday since 2003, and "Genoveva" was there when I started!! In fact, the first month of Juglar she performed with me!
So it seemed very fitting and sentimental to have Flor and Genoveva dance together in "Verano Flamenco" since this is sort of like a continuation of "Juglar por flamenco" idea transported from Madrid to DC! The featured guest dancers included Pam de Ocampo and Jen.