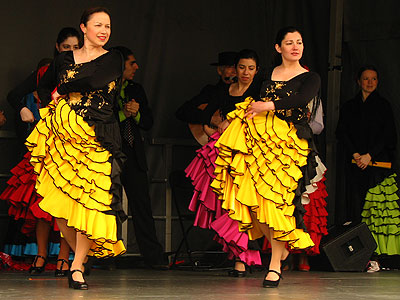 Furia Flamenca members Sylvia and Morgan at the Cherry Blossom Festival Tidal Basin Stage. April 11, 2009 3:51pm
It's 11-something pm on Thursday as I type these words. Yeah I know it's a beautiful night to be out and I was actually considering going to Aroma in Olney, Maryland to checkout the new Thursday night rumba show by guitarists José Oretea and Ramin Rad. But after my school show today (Thursday), I went straight home and jumped into bed. Was tired but don't know why.
By the way, the school show went really well. Not to say that my guitar playing was at its best, cuz it wasn't—haven't been able to practice that much lately, remember (see previous post)? But I just kept in mind that my job was not necessarily to impress the students with amazing guitar skills, but rather to touch them emotionally with my music and educate them about how to appreciate the art of flamenco.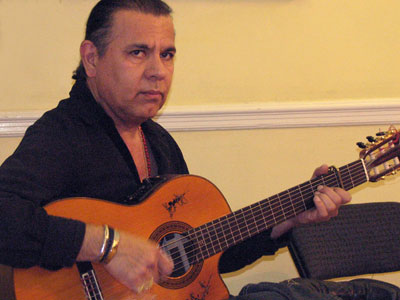 Flamenco guitarist Guillermo "Tito" Aguilar at the Coprodeli fundraiser. April 9, 2009 7:27pm
It's 10-something pm on Wednesday as I type these words. If you've been keeping up with my twitter updates, you'd have known that I've been spending a lot of daytime hours at bookstores with Wifi access cuz for the past few weeks from 9-5 there's been some repair work going on in my apartment involving lots of noisy tools, dust, water and toxic fumes.
Not exactly an environment conducive to working on the computer, not to mention that I don't have a comfortable place to practice guitar. Grrr....but thank God, I mean Mother Nature, that the weather is gradually warming up now, so in a worst case, I can always resort to practicing outdoors (checkout these pics from March 2004).
OK...so my being "exiled" from my apartment the past few weeks has taken a huge toll on my practice routine. So what to do? Just show up earlier at gigs and squeeze in as much warm-up time as I can. It hasn't been that bad to be honest, but once this repair work is done in my apartment, I'm going to have to double-up on practice time for sure!
Anyhow, let's talk about these pics you see here...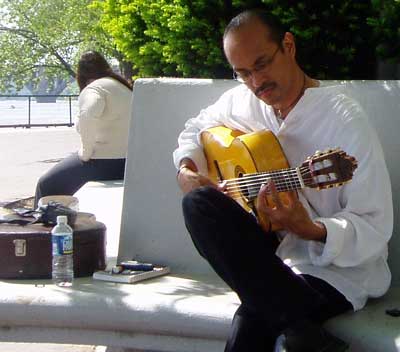 April 29, 2004 3:32pm
It's 11:30am on Thursday as I type these words. I'm here at my neighborhood Starbucks doing my usual computer-related daily activities: DC Flamenco updates, email, Facebook, MySpace, Twitter etc. And it's about time I published another blog entry, but since I haven't been taking pics lately, I decided to dig one up from the archives.
If you've been following my tweets lately, you know I've been spending my days at Barnes & Noble and Starbucks—y'know, the places where freelancer people like me hang out and do their work. I've been meaning to do this for the longest time, but I wasn't able to before cuz I couldn't afford a laptop, on my struggling musician income, until now with the recent popularity of relatively low-priced netbooks.
But now you're probably asking yourself, "Wait a minute. Is Miguelito a musician or is he one of those generic laptop-toting, cappucino sipping, office-casual-jeans-wearing freelancers that typically inhabit Starbucks during the day?"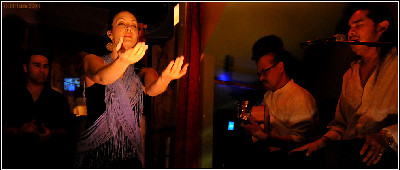 Dancer Sara Jerez with Jason Vera y Aragón, Miguelito and José Oretea at Café Citrón. March 30, 2009 photo by Jill Hatzai
It's almost 2:00pm on Friday as I type these words. My WiFi access here at Barnes & Noble expires in 20 minutes, so I'll make this quick.
My photographer friend Jill Hatzai sent me the photo you see above (click on it to see the full-size version). I've always pondered the many different ways of promoting the local flamenco scene but one thing that I do very well is make people aware of what's going on. It's really simple: I relentlessly publish pics of anything and everything going on (assuming I can make it to everything!).
But the next step after making the local community aware of what's going on, naturally, is enticing them to come out and enjoy the flamenco performances, IN PERSON. One fan of my website wrote me recently: "Even when I don't go out [to flamenco shows], when I look at your pictures, I feel like I have."
That's a compliment of course and I'll take it—I'm by no means a pro like Jill, but I am a decent photographer. But I'd rather have people come out to my shows rather than choose to stay home and catch up on what happened by checking my blog.
Oh well. It's a never-ending battle. But, not to worry, I won't ever give up. I'll do all I can to get people (especially new ones) to come out to support the flamenco scene.
Having said that, enjoy this pic by Jill. And make sure you view the full-size version. The panoramic view will make you feel like you're right there!
My thanks to Jill for the gorgeous pic. And I hope to see some new faces at my flamenco shows in the coming weeks! As for tonight (Friday), I'll be at Cabanas performing with dancer Ginette Perea and friends. Ciao!