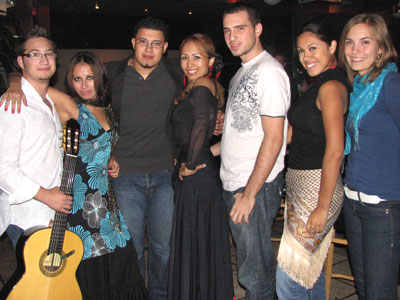 The younger generation of DC flamencos (from left): guitarist Mateo Romero, dancer Ginette, singer Hector Márquez, dancer Isabelita, singer Naíto, singer Marylin Márquez and dancer Sarah Hart. September 19, 2008 9:58pm
It's 9-something am on Monday as I type these words. Got a busy day ahead of me. But here's a quickie blog entry with pics from last Friday's flamenco show at Cabanas in Georgetown.
As I took the above pic, it occurred to me that everyone in that photo is a flamenco performer in their early 20's. Three young singers, three dancers and guitarist. Quite a change from when I first started performing in tablaos in 1995 and still in my 20's: my first weekly gig was at Havana Village in Adams-Morgan and I didn't even have one singer back then.
Interestingly, flamenco legend Paco de Lucía partied at Havana Village one time after giving a concert in DC. Fortunately, it wasn't on a night when I was playing at there. Can you imagine what it would be like to have someone like him show up as I was performing onstage? It could happen!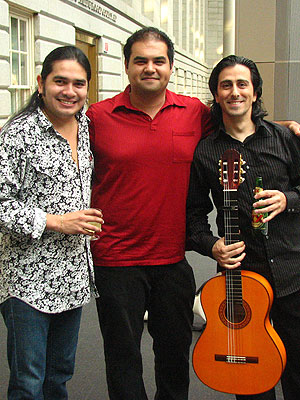 José Oretea, Behzad Habibzai and Ramin Rad at the Smithsonian American Art Museum. September 4, 2008 5:48pm
As promised, here is the second batch of pics from the flamenco performance at the Smithsonian American Art Museum. Enjoy!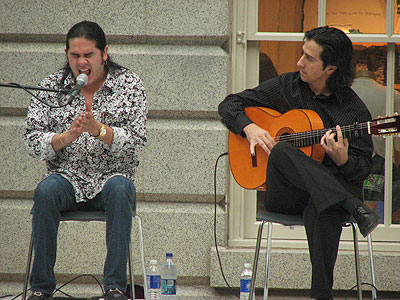 José Oretea and Ramin Rad performing tientos/tangos in the Kogod Courtyard of the Smithsonian American Art Museum. September 4, 2008 5:10pm
Yesterday (Thursday) I went to the Smithsonian American Art Museum where a few of my flamenco friends were performing: guitarists Ramin Rad and José Oretea, percussionist Behzad Habibzai and dancers Kyoko, Yolit Yospe and Emily Mazzotti.
They did three half-hour sets between 5:00pm and 8:00pm, but since I had to rush off to Las Tapas to do my own show, I only stayed to photograph the first two sets. I took close to 400 pictures! This is just a random selection. Enjoy!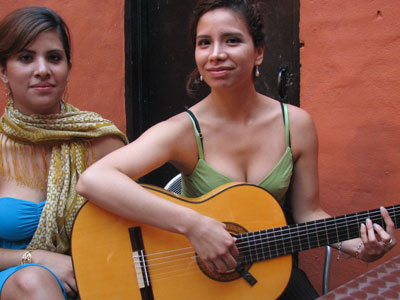 Daniela, Cindy and Yahaira in the courtyard of Bodega in Georgetown. August 31, 2008 7:28pm
It's 1:00pm on Tuesday as I type these words. I hope you all had an enjoyable three day weekend. I know I did. Anywayz, on Sunday night, I hosted a flamenco juerga at Bodega restaurant in Georgetown which was very well-attended. I only sent out the invitations via FaceBook just as an experiment to see how effective it would be for publicity. The day before the juerga I had 71 people confirmed and 38 maybes!
However, the courtyard at Bodega can hold about 40 people comfortably so fortunately our guests arrived in several waves. Some came for awhile and left, then another small crowd came in. When that crowd left, another came in.
Cool thing was that about half of the guests I had never met before, which is good: new people to introduce to the DC flamenco scene! Of course I told lots of them about DCFlamenco.com and even met a new dancer or two who are new to the area and unaware of the flamenco scene, yay!
Here are the pics. Enjoy!