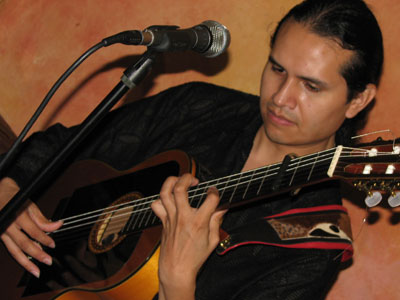 Cesar Oretea at Ozio. August 20, 2007 11:18pm
It's 8:46am on Tuesday and I'm actually up at this early hour. Truth is that I didn't go to bed last night cuz my body clock is back to "vampire" time. Thankfully I don't have any morning appointments requiring me to be fully awake and mentally alert.
So I'm just going with it and making myself productive here and recounting last night's events to help you pass the time in your cubicle at work today. Hehe
Got home via taxi sometime after 2:00am. In case you're curious, the fare was $11.45 and I'm estimating the trip was a little more than 5 minutes from the Dupont Circle neighborhood--I'm loving living here in Rosslyn cuz it's so close to Georgetown, Dupont Circle and more! Anywayz, overall it was a typically fun Monday night--nothing over the top but just entertaining enough to make me glad I stayed out late instead of going straight home. Started off with my usual flamenco gig at Cafe Citron. Performing with me were singer/guitarist Gerard Moreno and dancer Mariya. Also joining us were Jason Vera y Aragón on cajón and saxophonist Montreaux (not sure about the spelling).
The saxophone was a spontaneous addition to our group for the rumba. Gerard ran through the song with Montreaux for a few minutes in the rehearsal space downstairs. We had no idea how it would turn out but that's the way it is in flamenco. So we just relaxed and went with the flow. It was refreshing to hear a different instrument in our show and I think that the next time it will just get better and better as Montreaux gets the feel of rumba in general and Gerard's compositional style.
Although the party vibe seemed to picking up as I packed up my sound system, Jason and I decided to head over to Ozio to enjoy the music of Duende Camarón...