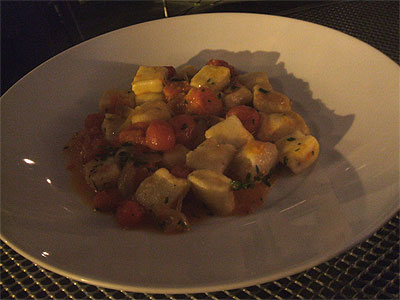 Potato gnocchi. October 18, 2006 9:34pm
That's the title of a book I came across a few weeks ago. It's mostly of interest to bloggers like myself who are constantly looking for ideas of what to write about.

Sometimes it is true, but it so happens I get comments from some of my readers about how much they love my food pics. Hehe.
So last night (Wednesday) I didn't have a gig for the second week in a row and it happened to be a beautiful night--not to mention a beautiful day too. But I didn't have any plans but somehow it worked out.
You see...I do a lot of gigs with dancers and little dancer accessories typically fall off in the middle of a show: mostly earrings but sometimes combs, bracelets etc. Afterwards, they leave the stage and go change back into street clothes oftentimes forgetting to pick up the things that fell.
At the end of the night when the dancers have gone home and as I'm packing my sound equipment, I notice the missing earring or whatever lying on the stage and I just put it in my guitar case thinking to myself yeah, I'll give it to her when I see her again. Well weeks or months pass and we both forget and eventually I accumulate a odd collection of orphaned earrings and I can't even remember who wore what.
Well, last week I was at a club after one of my gigs and I ran into a friend who was dancing up a frenzy who decided to hand me her watch--I don't know. The music was loud. I didn't ask any questions. She just handed it to me and I put it in my pocket. Hours later I got home and guess what happened. Yup...as I was emptying pockets I found the watch and this time I remembered who the owner was.
Long story short, last night I called up this friend telling her that I was free to meet up and return her watch and ended up getting dinner at an outdoor cafe and enjoying some delicious food on this beatiful night...