It's 10:30am on Wednesday as I type these words. Believe it or not, this is my second blog entry in the same day as I try to catch up.
Stopped by Alliance Dance Institute yesterday (Tuesday) to meet up with dancer Marsha Bonet for a quick rehearsal. We're doing a private gig tonight (Wednesday) in Adams-Morgan at a club that's celebrating its anniversary. We go on at about 11:00pm. Should be fun.
For our rehearsal (all 30 minutes of it) we just did a few run-throughs to get the choreographic structure down and left plenty of room for improv. Afterwards I got some lunch, caught the bus and headed towards the Van Dorn metro to get on the train towards Dupont Circle to pick up my sound equipment at Cafe Citron.
It was a little after 3:00pm, the rehearsal earlier went well and I had plenty of time to chill out before the show at Las Tapas so I was in a pretty good mood.
Saw this girl standing on the train platform who caught my eye. OK, so she happened to be beautiful, but something about her seemed familiar but I couldn't put my finger on it. Kept to myself until the train arrived. Got on and grabbed a seat near her. She took the initiative, made eye contact and started up a conversation:
"I have seen you perform."
I'm used to being recognized in public places but this feeling never gets old, "Cool! Where? Cafe Citron, Las Tapas..."
Before I could finish reciting my list, she interjects, "Las Tapas! We met. I have your business card."
I pride myself on remembering names and faces, but it wasn't happening at this moment, "Forgive me, what is your name?"
"It's OK. My name is Tatiana. Where are you from?"
We continued talking until she got off at her stop. Turns out she's also a singer/guitarist, from Colombia, who occasionally performs at La Tasca in Chinatown (incidentally, another La Tasca is opening up down the street from Las Tapas) with a group called Cafe y Caribe. Got her card and promised I'd check out one of her shows sometime. Anyway, one of the cool things about being a performer is that you meet a LOT of people. You may not remember them all but at least they remember you cuz you're the center of attention on stage (at least for a short while).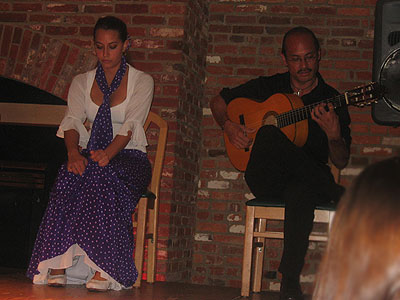 Genoveva and Miguelito. June 27, 2006 8:58pm (photo by Drew)
A few hours later, I was at Las Tapas doing my usual Tuesday night show. I had the pleasure of performing with dancers Genoveva and Sarah Hart.
It's not too often that I have pics of my shows here, but Genoveva's friend Drew was kind enough to take a few during our second set.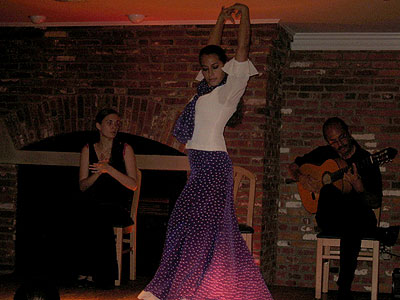 June 27, 2006 9:08pm (photo by Drew)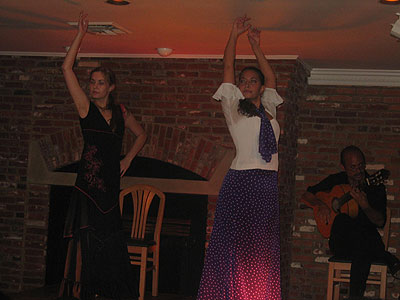 Sarah Hart and Genoveva. June 27, 2006 9:18pm (photo by Drew)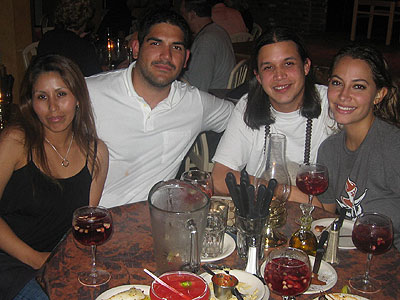 Gisela, Marcelo, Drew and Genoveva. June 27, 2006 9:32pm
It's going to be a full day and night for me. Got a rehearsal from 2:30-4:00pm in Rockville, then I have to go down to Alexandria to pick up my sound system at Las Tapas and bring it to the Andalucia where I have a private gig at 9:00pm with dancer Sara Hart and then at 11:00pm I have a private gig with Marsha Bonet aka Rosa la Huracana at a club in Adams-Morgan.
Yeah I'll be tired, but I can't complain. I'm doing what I love to do!