It's 2:36pm on Sunday as I type these words. Despite going to bed at 5:00am this morning, I still got up around 10:00am feeling well-rested. Not logical I know. It certainly helped that I went easy on the alcohol for change. Not that I'm an alcoholic or whatever.

Just cutting back a bit these days so I don't wake up with a throbbing headache in the morning. I'll quickly finish this up and get outdoors for the rest of the day and chill.
Anyway, last night was a pretty intense (albeit very enjoyable) evening that began with a performance at the Alliance Dance Institute where they were having their Spring Showcase featuring student and professional performances.
Some of Marsha Bonet's students performed a special choreography that featured snippets of different palos from bulerias, fandangos de Huelva, Sevillanas and rumba. And the cool thing, at least from my perspective, was that not only was it their first time to perform flamenco onstage, but it was also their first time to perform with live music. Accompaniment provided by yours truly!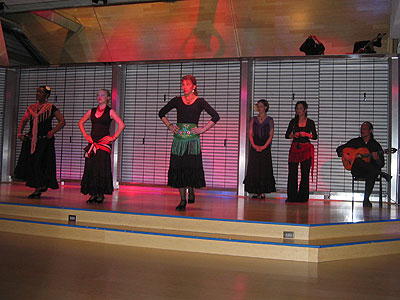 Cynthia, Sophia, Kate, Rachel, Marsha and Miguelito. April 29, 2006 9:25pm (photo by Jason)
I'm not just here to promote myself and my services, but I feel it's very important that flamenco dance students get some experience working with live accompaniment early on. I've already talked about the advantages of live music in flamenco many times over the years, so I'm not going go into it now. Kudos to Marsha on insisting on using live music for this showcase!