It's 10:42pm on Sunday as I type these words. I need to seriously catch up on sleep so I'll keep the commentary very brief.
I started off the day playing for Sara Candela's bulerias workshop at DC Dance Collective and saw a couple of familiar faces in the class.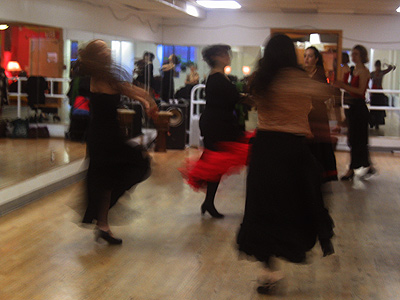 February 26, 2006 2:10pm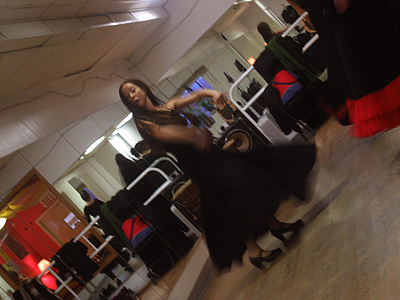 February 26, 2006 2:13pm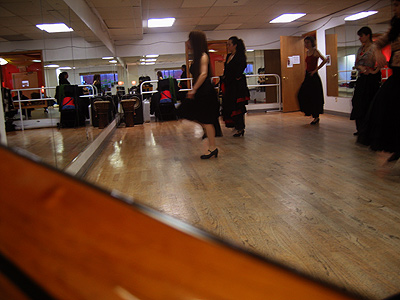 February 26, 2006 2:31pm
Later, I stopped by the Kennedy Center Millennium stage to support my dancer friend Lori Clark in a performance of kathak dance. I arrived at 5:45 (the show started at 6:00pm) so I ended up standing in the back row.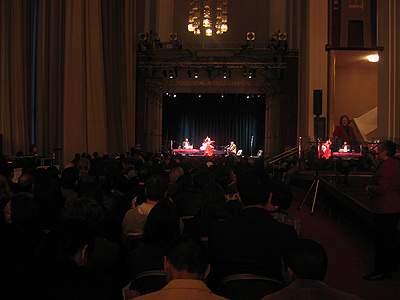 My view from all the way in the back. February 26, 2006 6:22pm
I ran into Julian, a local flamenco guitar student who came with his wife and daughter--who happens to be a professional belly dancer. But I was so taken in by the show that I didn't notice Julian and his family had left. Oh well.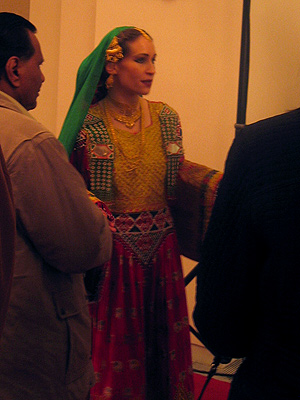 Lori speaking with audience members and the press after the show.February 26, 2006 7:22pm
Sara Candela and Veronique Tran were in the audience. Just for fun, they suggested posing doing back bends. This is a pic of Sara, Lori and Veronique.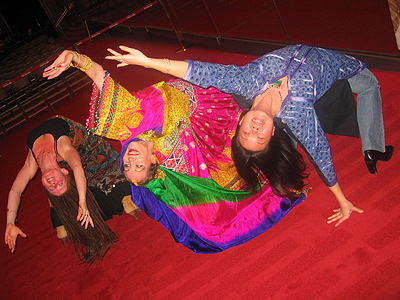 February 26, 2006 7:24pm
Yeah, these are definitely dancers.

How many people do you know that would willingly do back bends in public? Not to mention having the flexibility to do them in the first place!
Over the past ten years or so I've performed with each of these lovely ladies in flamenco shows. They're all full-time dancers who graduated from American University here in DC. You all know Sara--currently she resides in Santiago, Chile but is visiting the USA for a few weeks. Lori is a multi-talented dancer and is one of the most-in-demand performers of Arabic dance in the DC area (goes by the stage name Yasmina). I've never seen Lori dance kathak until this evening and I was very impressed. Veronique is also multi-talented and just happens to also teach yoga at the Pink Flamenco studio--my house.
I couldn't help myself. Just for fun, this is the same pic but turned upside-down and touched-up a bit a la Photoshop...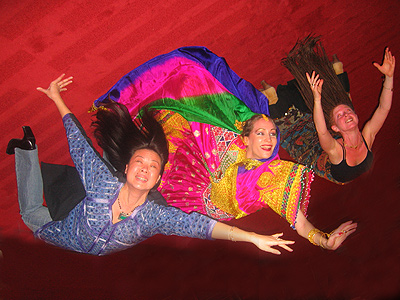 They're flying!

February 26, 2006 7:24pm
Hanging out with Sara, Lori and Anastasia deciding where to go out for a bite--Lori dropped us off at Dupont Circle and we all went our separate ways but promising to meet up another day.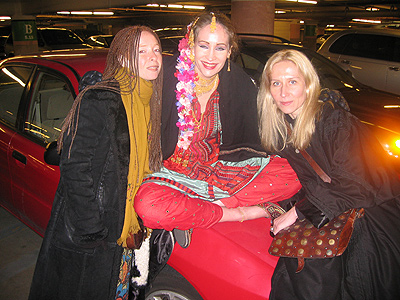 February 26, 2006 8:08pm
You can watch a video of Lori's performance in the Millenium Stage's video archives.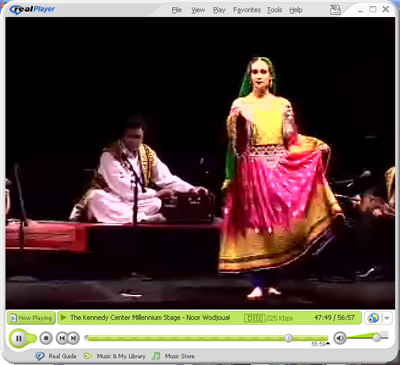 I just got the news that I'll have a dancer for a housemate starting in March, yay!