It's 9:21am on Saturday as I type these words. We have a performance coming up this weekend, so Ginette took advantage of one of the perks she gets as a teacher: discounted rates for studio time. Ironically, I almost arrived late for our rehearsal despite the fact that I live closeby--it's only a 15-minute walk.
So when I left the house to go to the studio, I seriously needed some caffeine to wake up so I stopped by Starbucks for my doppio fix. There was a long line, ugh! So I drank my espresso like a shot and walked rather briskly almost to the point of breaking a sweat despite the bitingly cold weather.
You see, Ginette came all the way from Arlington and woke up especially early to catch the bus in addition to riding the metro. The least I could do is arrive on time since I live practically down the street from DC Dance Collective.
A few years ago, she and I worked in tablao gig every Thursday night. Ginette was enthusiastic and very dedicated: she took a bus and the metro all the way from Fairfax to Rockville after a long day in school, then she'd perform and get back home late and then finally get around to studying. She would do this every week for about 6 months and finally she had to resign cuz it was probably affecting her studies. I was disappointed to see her go, but I understood why. Fortunately, I was still able to call her on her for occasional private gigs at least.
Fast forward to present day...Ginette tried out using the shawl for her solea por bulerias as well as some new footwork patterns that she worked out on her own.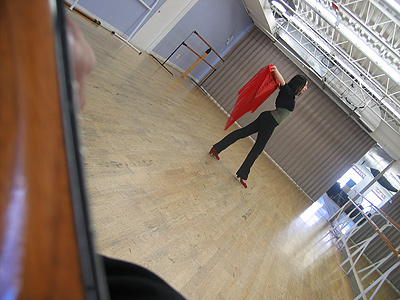 My view of Ginette as we rehearsed at DC Dance Collective. February 24, 2006 12:45pm