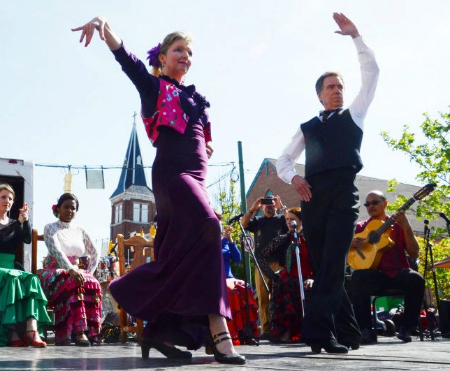 Arte Flamenco dancers Terrie and Mark in Tangos de Málaga. May 5, 2013 (Photo by Stan Peters)
It's 6pm on Wednesday as I type these words. Did a school show this morning at La Tasca Rockville and now I'm here in Alexandria at my favorite cafe catching up on email before heading to my gig at Las Tapas.
Since the closing of Plaza del Sol, my former Saturday night gig for a year-and-a-half, I still haven't found a replacement gig yet. Fortunately, I've had a quite a few calls for one-time private gigs and performances with local dance companies like Natalia Monteleón's Arte Flamenco.
So this past Sunday, Arte Flamenco performed at Baltimore's "oldest and finest" Cinco de Mayo festival hosted by Education Based Latino Outreach. Yours truly was the guitarist accompanying singer/dancer Claudia Román and members of the dance company.
My longtime photographer friend Stan Peters came out to show his support and graciously offered to photograph our performance. Here is a small selection of photos. Enjoy!